The Wandas: OurStage Artist Of The Week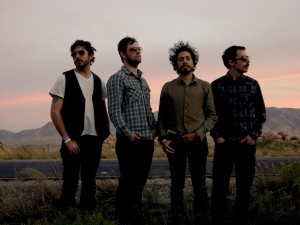 The Wandas rarely deliver exactly what you expect. When this writer happened upon their afternoon set at South By Southwest a couple of years ago, they were about three-quarters of the way through and had nearly reached the crashing crescendo that would find them spilling off the small roofdeck stage and into the enthusiastic crowd, instruments held aloft, strummed, banged, and fedback, for what seemed like the entire last song.
The band and I happened to be leaving the venue at the same time and when I told them how I'd enjoyed the set, they handed me their self-titled 12 LP. Based on their show, I looked forward to a hooky, high-octane garage rock romp. Yes, a romp, dammit. What I heard was indeed energetic rock and roll, but it was deeper, more thoughtful and introspective. It was the first new album I'd heard in a while that contained honest-to-god guitar work, in the vein of Television and Neil Young. It was psych and pop and jamming, all rolled into a concise musical language. I knew what they meant.
Now, a new album for 2013. New Interface (A Design with Friends for the Future) was released June 25th. And once again, the band has confounded expectations with appreciable growth. Having fully realized on their first album the often-elusive cohesion of being in a gritty yet cerebral rock band, The Wandas have added a diverse songwriting palette, highlighted by increasingly elaborate and deliberate production.
The album's lead single Mad Man is preceded by two beautifully juxtaposed mood pieces. The first track, New Interface, is a spacious, My Morning Jacket via the Flaming Lips-evoking roller, complete with some nice slide guitar and reverberating yelps as it builds to a commanding climax. With that vibe punctuated, The Wandas shift gears to some groovy indie rock on Davy Jones' Locher, a track no less atmospheric, but far more driving. It stays on one level, with a breathy and tranquilizing lead vocal, and really sets the stage for Mad Man.
Mad Man, a jangly pop song propelled by a bouncing bass line, evens things out by taking us into familiar modern rock territory, but increasingly subverts that comfort zone; an extended guitar solo ends with a breakdown where the backing vocals, which have been running most of the song, suddenly take on a more uneasy bent and lend more authenticity to the song's titular refrain.
The LP continues in such a dynamic fashion. Good Feeling revisits the band's Crazy Horse tendencies as established on their first LP. Killer Heart cleans it up with a tight drum pattern and a killer chorus hook, and Velvet Dream is a pretty, fingerpicked acoustic track enveloped in ambient sounds.
American Land is where things take a whole new turn. Thought it recalls the static, zoned-out vocals of Davy Jones' Locher, the effect here is chilly and robotic, an effect enhanced by some beeping and whirling noises that kick off the track, rising and falling throughout, but undermined by the purely human, almost Peter Gunn groove and riff. Nonetheless, it's a slightly disconcerting and dystopic vision.
How I'm Doing sticks a toe into MGMT-style guitar/bass fuzz, delay, and reverb, but with the inherent bliss of The Dandy Warhols' unorthodox structure and chord changes. The next track, Hood River Blues," is just as spacey but more melodically focused. Indeed, it really has to be, as the album's one pseudo-instrumental (there are some vocal oohs to help guide the hook, especially as it climbs the modulation ladder).
Finally, My Mourning (a nod to MMJ? I dunno.) is more defined in its production, grounding the whole experience, which to this point had been flying further into the sonic atmosphere. Things get mellow here, but not sparse, with some pretty tinkling guitars and keyboards and a weary lead vocal. This is the song for after the afterparty, as you ride home exhausted through a warm breaking light and the fog in your own head. New Interface (A Design with Friends for the Future) is, in fact, a very strong contender for rock album of the summer. Try it.