Last week The OurStage Panel premiered, featuring some of the most buzzed about artists on OurStage. While only one could be chosen by our panel of industry experts (congrats, Britni Elise!) The OurStage Panel is far from over. This week's webisode puts the music of four new hopefuls to the test.
Austin Renfroe: This Atlanta native brings both soulful song-crafting and the energy of a concert artist to the page and stage with pop songs reminiscent of Gavin Degraw.
Sarah Cripps: The Canadian songstress has been playing since the age of nine, and has shared the stage with famous countrymen like The Barenaked Ladies, Johnny Reid, Doc Walker and Jason McCoy. Cripps delivers polished folk-county marked by steel guitar and the singer's silken vocals.
August Rising: A combination of Lifehouse, Goo Goo Dolls, and Maroon 5, the 4 piece band is consistent with their refreshing hooks and their music is honest and simple yet emotionally fed.
Acalasia: This DIY rock band's latest EP is an eclectic blend of sounds, ranging from guitar-driven rock to more traditional pop songs.
Watch webisode 2 now to see who the panelists crown worthy of moving on to The OurStage Panel finale, and be sure to follow @OurStagePanel on Twitter and weigh in on your favorite using the #ourstagepanel hashtag.
Find out how you can be included in the next group of artists considered for The OurStage Panel.
August Rising is one of the best rock bands on OurStage if their near constant status as chart toppers during much of 2009 is any indication.  The band has eight Top 10 finishes, including their song "And I Will" which won first place in March on the Indie Rock Channel.  But, considering 4 of their songs placed in December's Top 10 on the Soft Rock, Premium "Artists on the Verge," Modern Rock  and Acoustic Channels, the band can really fit in to just about any rock genre they choose.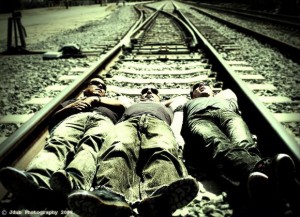 Besides playing shows in their native California, the August Rising has been approached to open for some major established artists on upcoming tours.  The band has worked diligently to surround themselves with a great team of people working to make their success a reality. By utilizing social networking, the band has begun reaching out to over 30,000 fans across multiple platforms.
Jeff (vocals/guitar) had this advice to offer to other bands: "We've really learned over the past year how important the whole idea of 'who you know' in this industry really is. We don't look at who we know as a substitute for hard work, but rather taking advantage of opportunities when they're given."
Take a listen to some of their songs below and keep an eye on this ever-evolving band!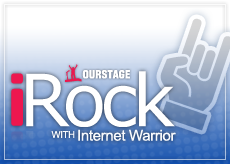 Let's back it up for a moment. Remember back in the late ˜80s and ˜90s when the music industry played the singles game? For all of you younger readers that's when a label would release the artist's single off their album along with two additional tracks, possibly a remix, acoustic or a rare song (depending on settlements). With iTunes taking over the digital age of music retail merchandising, it seems as though the singles game is slowly coming back into play. Since many users nowadays download full albums after previewing or purchasing a single on iTunes, many independent rock artists are beginning to "up-the-bar" of their writing. To stand out amongst the vast sea of artists flooding the Internet, young artists are working harder to write catchier, hit tunes to help them gain recognition and, of course, a nicer paycheck in the end. This week's edition of iRock showcases OurStage rockers who wrote catchy songs that keep your foot tapping and hair standing on end.
Below you'll find a playlist ranging from the Indie Rock and Soft Rock Channels that showcase catchy melodies, hooky lyrics, pounding guitar riffs, solid beats and driving bass lines.