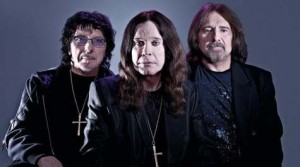 There are critics who claim Black Sabbath is not Black Sabbath without the presence of Bill Ward. I don't know if I agree, but I also admit to never being a big enough fan to make such a distinction. Either way, his exit from the group earlier this year has lead many to wonder just what they should expect from the group's forthcoming album and just what it is that lead to the split. Now, just weeks before 13 is scheduled to hit shelves, frontman Ozzy Osbourne has opened up about Ward's exit in a new interview.
Osbourne recently spoke to U.K.'s Metal Hammer magazine and addressed Bill Ward's absence. Speaking on the group's decision to move forward, the metal icon offered "It would have been great to have Bill " all of us said that, but you can't expect someone of Bill's age to be as agile as he used to be. He's had heart attacks. If he'd turned up and played like he used to, or nearly as well, maybe we'd have worked something out¦ But we decided that if we were ever going to do this fucking album, you've got to be on the case. It got to the point where we said, ˜Are we just going to sit and wait for him to get off his fucking arse or what?' We had to decide " we couldn't just keep the fans waiting any fucking longer.
13 will be arriving in stores, sans the presence of Bill Ward, on June 11. Black Sabbath will hit the road shortly thereafter to tour in support of the album. Dates can be found on the group's official website.