Riffs, Rants & Rumors: Celebrate the Weed Laws with Rock's Top 10 Stoners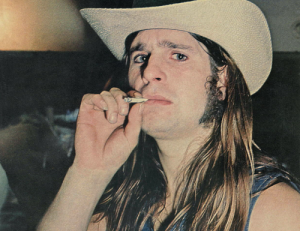 Sure, there was some kind of election or something last week"at least we think that's what we heard coming out of the mouths of the TV pundits. Honestly, we kind of stopped paying attention after a while, at least until the news broke about a truly earth-shattering political breakthrough. While the rest of the world was focused on whichever one of those guys with the suits and ties walked away with the prize, we were captivated by a revolutionary piece of legislation that proved to be election night's biggest surprise: the legalization of recreational marijuana use in Washington and Colorado. While this monumental move has been the dream of stoners all over America for decades, it must be assumed that the passing of what we like to call The Bong Bill will be most widely celebrated in the realm of rock 'n' roll. To commemorate the dawning of a new era for uncontrolled substances, let's look back at some of rock's most notorious stoners, who are sure to be holding their lighters aloft in honor of these epochal developments.
Black Sabbath
Just for starters, one of their earliest albums introduced the much-covered metal marijuana anthem Sweet Leaf. But beyond that musical love letter to THC, Ozzy Osbourne is one of rock's most titanic tokers, to the point that he ultimately changed his stance on legalization in recognition of the damage drugs had done to his neurological system. Granted, we're talking about a lot more than merely pot in Ozzy's case, but nevertheless, Sabbath are still stoner-rock standard-bearers.
Carlos Santana
Have you ever read or seen an interview with Latin rock trailblazer Carlos Santana? Do you really imagine for a moment that he comes up with all those heady spiritual/philosophical notions without the aid of marijuana? Of course, he's also notable for being one of the few people to get arrested for bringing pot from the U.S. to Mexico instead of the other way around, back in ˜91. And then there's this:
Gong
This international psychedelic ensemble from the ˜70s is undoubtedly the least famous name on this list, but the Australian/English/French space-rockers cannot be left out. After all, we're talking about a group that released three albums between 1973 and 1974 called the Radio Gnome Trilogy, about a race of hippie gnomes from outer space who flew around in magic teapots trying to heal the problems of planet Earth by offering humans a taste of their curiously calming tea. And just to fill out the picture a little further, there's this surreal story.
The Grateful Dead
Are you kidding? These guys are practically synonymous with pot smoking. Granted, Jerry Garcia was given the nickname Captain Trips for his LSD adventures, but like most of the extended family surrounding him, he was never known as one to pass on the pleasures of the magic herb. Hell, there's even a strain of grass that was named after him. And just in case you need official documentation, let's look back to the days of Woodstock for a mere moment:
http://youtu.be/LckgDU9R0GA
Queens of the Stone Age
Some acts may be known as stoner rockers, but QOTSA are the linchpins of an entire genre dubbed "stoner rock." Frontman Josh Homme wasn't interviewed by High Times for nothing, you know. Nor does he deny having a passing familiarity with the first half of the aforementioned musical designation.
Paul McCartney
Sure, Lennon was the one who wrote Lucy in the Sky With Diamonds, but this isn't an article about acidheads. And Macca's the one who was famously busted on tour in Tokyo with Wings, well after the era of tangerine trees and marmalade skies, for possession of over 200 grams of marijuana.
Pantera
Well, just for starters, they did have a guy in the band named Dimebag Darrell. But if you need to go further than that, they also have a song that goes, your trust is in whiskey, weed, and Black Sabbath (Goddamn Electric). Then there's the fact that seemingly every other piece of Pantera iconography is emblazoned with a pot plant. And in case you require any further convincing, feast your eyes on the following:
David Peel
A relic of the radical ˜60s, David Peel suddenly seems not so radical after all. David Peel & The Lower East Side were to pot smoking what Richard Simmons is to dancercise, in that it was their raison d'etre. Peel was basically a New York street busker who was discovered by John Lennon and signed to Elektra for the 1968 album Have a Marijuana, which contained such tunes as I Like Marijuana, I've Got Some Grass, and Show Me The Way To Get Stoned. Peel would eventually prove the diversity of his outlook with 1972's Lennon-produced album The Pope Smokes Dope.
Willie Nelson
At this point we feel compelled to abandon the stylistic constrictions of this list to honor a couple of historic musical figures whose stoner status transcends genre boundaries. Outlaw country avatar Willie Nelson is simply the smokiest S.O.B. ever to hoist a guitar. Not only was he penning tunes like Me and Paul back in the early ˜70s, about getting busted for leaving certain substances in his hotel room (not the only experience of that kind he's had), he has allegedly toked up on top of the White House roof, and is the subject of a Toby Keith song called Weed With Willie. His latest album contains a collaboration with Snoop Dogg, Kris Kristofferson, and Jamey Johnson entitled Roll Me Up.
Peter Tosh
At this point it's probably best to let the music do the talking, so why don't we just let the prophet speak for himself: