Ever since her controversial GRAMMY performance last week, tongues have been wagging about Nicki Minaj.  Critics say she crossed the line with her Exorcist-themed theatrics, while others commend the hip-hop hybrid for her creativity and the guts to pull it off.
Lil Kim had some choice words for Nicki, and used the performance to rekindle their feud.  During an appearance on Bravo's Watch What Happens: Live, Kim bashed the Young Money maven, calling her music's most overrated artist.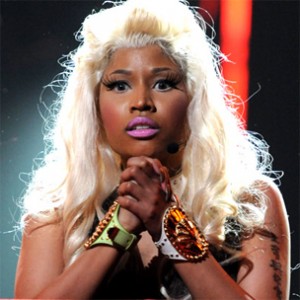 "If you have to make a song called 'Stupid Hoe,' you must be the stupid hoe," she said in reference to Minaj's current record-breaking single.  She went on to compare Minaj to Fire Marshall Bill a character from the hit '90s television show, In Living Color.
But Kim isn't the only one firing shots at Nicki.  Last week, the Catholic League's President, Bill Donahue, released the following statement:
"Nicki Minaj, fresh off looking like a fool with Madonna at the Super Bowl, showed up last night (February 12) on the red carpet at the GRAMMYs with a guy dressed like the pope. This was just a prelude of what was to come. Minaj's performance began on stage with a mock confessional skit. This was followed by a taped video depicting a mock exorcism. With stained glass in the background, she appeared on stage again with choirboys and monks dancing. Perhaps the most vulgar part was the sexual statement that showed a scantily clad female dancer stretching backwards while an altar boy knelt between her legs in prayer. Finally, "Come All Ye Faithful" was sung while a man posing as a bishop walked on stage; Minaj was shown levitating."
His sentiments echoed any voices across the country who called Minaj's performance disrespectful, demonic, and over the top prompting her to defend herself and her motives. She told the Associated Press, I don't know what is the big issue?"
Minaj has made no secret of her passion for acting, and she explained the display as a segment of a larger project for the future. "You know how people write plays and movies? That's what I did," she said. "I wrote that and I gave the world a tiny little preview of what was to come. And so I have to perform it on the set in which it would be in the movie, right?"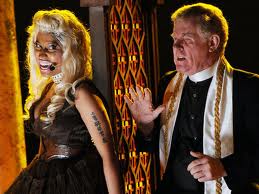 Of course, when Lady Gaga hit the stage covered in blood and hanging from the ceiling, apparently dead; no one batted an eyelash.  However, Minaj's portrayal of an onstage exorcism apparently sent people over the edge.
While I can understand how the Catholic League may take offense to a large-scale portrayal of priests and choirboys on the GRAMMY stage; I'm puzzled by the reaction of Minaj's fans. Anyone who has followed her career, or listened to her albums shouldn't be surprised by the exorcism/ multiple personalities concept.  She has been gearing up for this kind of roll out since she started doing press.  She has referred to Roman Zolanski numerous times, as the devilish little boy who says what she can't"who surfaces when provoked.  The character of his British mother, Martha has also made numerous appearances; constantly pleading with Roman to behave, as she did in the stage performance.  Minaj has also made no secret that her sophomore album will be centered around Roman's character; making this kind of teaser completely appropriate and relevant.  If anything, it was characteristically Nicki.
Although her detractors have been flooding the Internet with their criticism, others have come to Minaj's defense.  Her label mate, Lil Twist, told XXL, "I love Nicki's whole swagger. She doesn't care what anyone else thinks. That's what I really love about my sister and how she goes about herself. That performance was Nicki. That's all I can, say"it was so Nicki."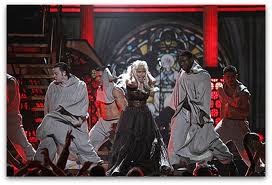 Now, Minaj is gearing up for her NBA All-Star game appearance.  She will perform a medley of her hits while the players are introduced during the big game.  She'll also be joined by some other heavy-hitters including Mary J. Blige, who will perform the National Anthem, as well as Ne-Yo, and Pitbull who will take over the half-time show. We'll see how this next performance compares to the GRAMMY's.