Welcome to the second installment of Under Covers, a biweekly column dedicated to exploring the musical possibilities of artists appreciating one another's work on both the OurStage and national level!
Perhaps it was the numerous family road trips spent crawling lethargically through the roasting interstates of the Midwest, with the cornfields, power lines and Lucinda Williams' tired voice on the radio as the only signs of humanity. Or maybe it was just the fact that this time of year fulfilled affinity for laziness after a summer full of activity. Regardless, I've always associated the month of August with carefree leisure and folk music. Over the years, the late summer breeze has blown folk melodies of old and new my way; from Gram Parsons and Johnny Cash to Iron & Wine and Paper Bird. Yes, every musical genre undergoes some metamorphosis over time, yet time seems to have handled the folk genre a little more delicately. Icons have come and gone, but the sounds and generalized messages of today's folk music hasn't drifted too far from its roots. If you haven't already guessed it, this week's Under Covers topic is folk music for the heartland.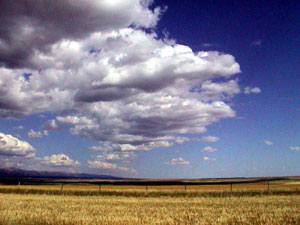 Back in '89, a Canadian singer songwriter named Gordon Peterson released an album on A&M Records entitled Big Harvest with his band Indio. The album's single, Hard Sun got a little airplay, but the album was otherwise considered a flop and he was dropped, never to be heard from again. Literally, the guy pulled a Salinger and vanished into oblivion, and has had absolutely no presence in the public realm ever since. Since that '89 release, Big Harvest has come to be considered an underground jewel"and having not been physically pressed since its release until this January, this collectors item has gone for as much as $400 on Ebay.
Eighteen years after the initial release, Eddie Vedder popularized Peterson's Hard Sun in a cover for the critically acclaimed Into the Wild soundtrack, and the work of Indio was dragged out of its cave and into the limelight. This time no one forgot.
For me, Hard Sun is a standby song; not a song to be played constantly, but more so on call for special occasions. But when those first guitar chords are strummed, they will make your day. Eventually, they might even trigger your reflex to take a deep breath automatically. With Peterson's warmly layered vocals, dispersed percussion and hooky chorus, this tune will have you singing out loud for hours. The meaning of this song is ambiguous. The verses can be interpreted as a tribute to mother nature, a force that seems to have been a reassuring staple in Peterson's life. Or, it can be translated to tell of his love for a real life she, someone who stayed with him through the good times and the bad. Peterson's first person reassurance enters in the chorus, encouragement for the big people to find peace and resolve in the struggle under the big hard sun no matter where or who you are in the big hard world. It's quite motivating, exhaling a set forth on your mission and don't ever look back vibe. One half ode to a support to lean on, one half ode to the downtrodden workers of the world.