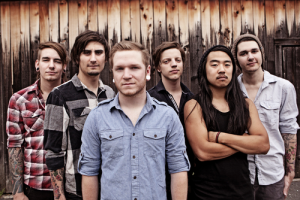 We Came As Romans' (WCAR) sophomore album, Understanding What We've Grown To Be, has been re-released for 2013 in a deluxe edition with three additional tracks.
Thematically, the album offers a comprehensive meditation on the challenges and struggles we encounter as we grow older, and the maturity that we gain from life's calamities. Yet, the band retains the positive sense of camaraderie so familiar from their first album, To Plant A Seed. Among all of the bands within the metalcore scene, WCAR has defined themselves by creating a unique sonic niche, utilizing slightly altered metalcore characteristics, synthesizers, and clean, auto-tuned vocals.
Driving, syncopated patterns create a groove familiar to metalcore. However, lead guitarist Joshua Moore provides melodic phrases that flow over the groove and help create a distinct sound. Additionally, clean vocalist Kyle Pavone and screamer David Stephens compliment each other and deliver well-articulated lyrics. The high production value on the album helps to blend all of the elements together, though it also seems to cover up the main criticism the band consistently receives – Pavone's lack of delivery during live performances. But his vocals work well here; the slight auto-tune and a generous amount of reverb create a nice change from Stephens' screaming. Combined with arrangement elements such as breakdowns, melodic passages, lulls featuring synthesized groove patterns, and tempo changes, the music and vocals seem to mesh effortlessly.
In a well-executed display by a band that can distinguish itself from the rest of the ever-growing metalcore scene, Understanding What We've Grown To Be conquers the sophomore album jinx. While I wouldn't say that it is better than their debut release, I will say that We Came As Romans have been able to produce a solid album that is not a carbon copy of their first.
More Like This: