It's been nearly eight years since George Michael released an entire album of new music, and three since he put out a single that wasn't a cover of New Order's "True Faith." But in 2011, the singer-songwriter starred in what must have been one of the year's most gripping YouTube videos, two minutes as gripping and heartfelt as anything on Listen Without Prejudice Vol. 1, his essential 1990 album.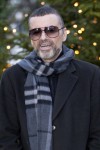 There was no music, and Michael didn't sing a note. In the clip, which was posted on December 23, Michael gave a press conference in which he discussed his recent near-death experience that began on November 21 on the Vienna stop of his forty-eight-date European tour and which he described as "the worst month of my life." The normally robust singer, who had contracted a chest infection that was later diagnosed as life-threatening pneumonia and spent a month in hospital in Vienna (including ten days in the intensive-care unit), appeared gaunt and gray, often struggling to catch his breath.
In a year that took so many of music's greats (R.I.P., Amy Winehouse, Nikolas Ashford, Phoebe Snow, Vesta Williams, Clarence Clemons, Dobie Gray, Billie Jo Spears), Michael is truly lucky to be alive "and he knows it. So what's next? First, as he said in the interview, he will reschedule the cancelled dates on the Symphonica Tour that he was staging throughout Europe and the UK when his illness struck. The shows featured Michael performing his own hits and non-hits as well as select covers (including Winehouse's "Love Is a Losing Game") with a symphonic orchestra.