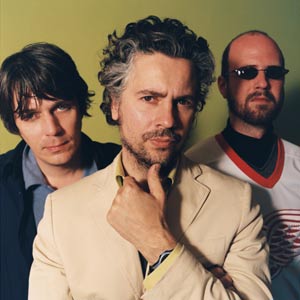 [UPDATED BELOW]
Not content with their start-to-finish cover of Pink Floyd's landmark LP Dark Side Of The Moon from a few years ago, The Flaming Lips have now recorded and released a "companion" piece to that record, intended to be played simultaneously. It is called Flaming Side of the Moon.
I know what I'm doing today.
Dark Side is an album rife with its own mythology, which includes the details behind the making of the record, the subject matter of the songs, the mysterious audio snippets buried throughout, and, of course, the supposed connection to The Wizard of Oz (which is certainly coincidental at best, though the Lips say this release does indeed sync up). So it is a prime target for further creative explorations by sonic adventurers The Flaming Lips, who are no strangers to this kind of multidimensional, puzzle-piece recording, having created their own Zaireeka, an album released in 1997 on four different discs, also intended to be played simultaneously.
[UPDATE: The Flaming Lips report this was an April Fool's Day joke. So, everything above, and it's all real, and they did it, but… just kidding?]
More like this:
The Flaming Lips Cover The Beatles
The Flaming Lips Stream '2nd Cassette Demo' From 1983
Beck Covers John Lennon's Love