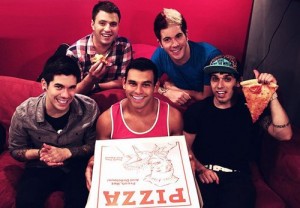 Pop punk favorites Patent Pending have released the official music video for their new single, "Let Go."
There is nothing typical about the world of Patent Pending, and so it is with their latest video. The story of "Let Go" is about a guy coming to terms with the end of a relationship by realizing the woman he left is not the woman he first met. The video works as a celebration of this realization that the past should stay in the past, and through a series of hilarious bits, the band puts together a stunning, firework filled performance that evokes the musical variety show performances so ubiquitous in the 1960s. You can view the video below.
"Let Go" is one of many catchy songs that can be found on Brighter, the recently released new album from Patent Pending. If you like what you hear, click here to get the album on iTunes.
Patent Pending have a history of performing shows during the holiday season, but have yet to reveal their plans for 2013. Follow OurStage on Twitter to ensure you never miss another update. (more…)