Exclusive Q and A: Set It Off Talk Orchestral Origins

In a Set It Off song, you're as likely to find strings and woodwinds as crunching guitars and sugary pop harmonies. The band's members have been perfecting their unique blend of orchestral pop-punk since 2008 and are about to embark on their biggest adventure yet: a European tour with Yellowcard this spring. We chatted with vocalist Cody Carson about his classical background, love of '90s R&B, and what advice he would give to up-and-coming acts looking to make their mark.
OS: You guys recently donated over $5000 to the VH1 Save The Music Foundation and you mention the influence of music programs on the band when you were young. What music programs were you involved in when you were in school?
Cody Carson: I went to Tarpon Springs High School in Tarpon Springs, Florida. In second grade, I picked up a clarinet, and I kept playing and I got very heavily involved in classical music. The only reason I went to Tarpon Springs High School was because of their music program; it was incredible. It taught you a great deal of work ethic, and there was also a leadership program that was called Tarpon Springs High School Music and Leadership Conservatory. I learned a lot of valuable life lessons there. I played clarinet and was involved in marching band and wind ensemble and jazz band. Because of the leadership program there, at the end of every year there was always a political campaign and I would run for clarinet section leader and woodwind captain, and those were two positions I held. I met Dan Clermont, our guitarist, there. He was the trumpet player there and he was also trumpet section leader and field commander and stuff like that. The program was incredible to us.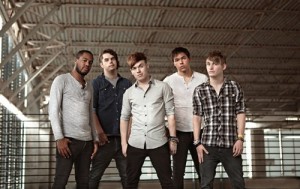 Without that program " I've said this before and I'll say it again " Set It Off wouldn't exist. I wouldn't have half the musical knowledge that I do. I wouldn't have the social skills or problem solving skills that I gained from there. Music programs everywhere are able to teach those sorts of things, but what sucked about it was that it was possible for us to get funding cut and we could have lost everything. I saw that show "Glee" once, and that was an issue that they brought up in almost every other episode; it's so true. So when we heard about the "Save The Music" Foundation, we were like, "That's it! We've got to work with that." Music programs are the reason why we're here. We didn't want to just choose a cause that sounds good, like, "Oh yeah, everyone's on this foundation because it makes us seem charitable." We wanted to find something that we really believe in and are really passionate about and not a lot of people are aware of. We're really happy we were able to raise so much money for them. That way it goes to a school and keeps some kids in band programs.
OS: That band training seems to show up in the central orchestral elements in your songs.  Do you have those in mind as you're writing, or do those ideas come after the songs have fully been written?
CC: Honestly, it depends. We just went to the studio and recorded a couple songs and one of the songs we wrote was completely based off of a voice memo on my iPhone that I was thinking should be a string line. So it can either start with a string line or an orchestral excerpt or it can start with a rock song and then I'll layer the other parts over it. We're always going to have strings in songs because that's what Set It Off is, but there's never a specific formula. Whatever comes into my head first will come out into the song. It's so fun to do, because bands like Yellowcard " I'm so psyched we're going off to Europe with them in like two weeks. I'm shaking with excitement [laughs] " they have Sean Mackin who plays violin. It's cool to listen to how they integrate a violin into their band by harmonizing a lead line or having his own solo or complementing the rhythm guitarist. That's sort of what we're doing, but we're doing it with a whole orchestra. It can be difficult and overwhelming at times because I want to go crazy and have everything happening at once, but you have to think, "OK, not everybody's going to hear that. Is that part important enough? Should I put it in another song or another section where people will actually be able to hear it?" There's a lot of thinking that goes into it.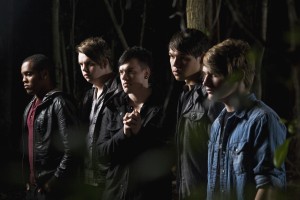 OS: So for the Yellowcard tour, are you guys planning on any kind of collaboration? Is Sean going to come onstage and play with you guys?
CC: I'll tell you this: as soon as it got confirmed, that entered my head. I'm going to ask Sean if he's willing to play strings on a song. I don't know what song yet. It has to be primarily violin, obviously, because that's what he plays. It's not like there's usually a violin part that plays nonstop through our songs. I want to make sure that he's not standing onstage to only play 15 seconds of a song. That would be so cool, though. I haven't talked to him about it yet, but we got to meet them when they were on their tour. The headliners were We Are The In Crowd and The Wonder Years, and we got to talk to Sean the most. He's such a down-to-Earth, very kind person. We'll be sharing a double-decker bus with them when we're in the UK. We're really excited to get to know them up close and personal.
OS: Is this your first time going to the UK as a band?
CC: Yes. There are a lot of firsts. First tour of the UK or overseas. The only other country that we've played that's not the United States is Canada, so that's a huge deal to us. There's going to be so much that we want to do and I know we're not going to be able to hit it all up, but we're going to do as much as we can. We've never done a bus tour before, and we've never toured with a band the stature of Yellowcard. We've toured with a band like Red Jumpsuit Apparatus, who are also big, but I listened to Yellowcard growing up when I was a kid. I loved their music, and they're such a talented band. So there are a lot of firsts and it's kind of overwhelming, but I cannot express how excited we are about this and the opportunity to finally meet fans in the UK and France and Germany. A lot of them have been so patient with us and have been with us since 2008 and  we have still not seen them yet.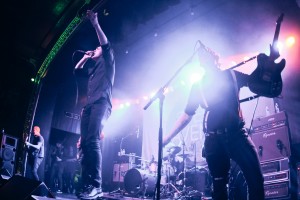 OS: You said that you listened to Yellowcard growing up. What were some of the other bands who were big influences for you?
CC: New Found Glory was definitely one of them. Sticks and Stones, man, that record. I was really bummed out because I got broken up with by this girl who I was in love with and my friend Brian said, "Hey, this is gonna cheer you up," and he handed me Sticks and Stones. It did. And the lyrics were perfect. They're poetically perfect. It's to a point, but not over-the-top to the point where you have to read up on them. It was enough to make you feel something and help you cope with what you were going through. Jordan Pundik's lyrical style was a big influence on me. Also Fall Out Boy is also one of my all-time favorite bands. Another one of my favorites that a lot of people don't know about is Five Iron Frenzy, a ska band from Colorado. Ska has horns, so naturally that appeals to me. The way they layer things is cool. And My Chemical Romance.
OS: You guys recently covered Say My Name for the Glamour Kills 90's Cover Series.  Were you choosing between that and other songs, or did you know you absolutely wanted to do that one?
CC: I've been into Destiny's Child forever. I had that '90s R&B phase, so I was definitely pushing songs like that. It was between that and Montell Jordan's "This Is How We Do It." That song is amazing. Destiny's Child made more sense, though, because it's minor key and we could also totally fit strings. It just started coming together immediately. I can't get enough of Destiny's Child and I'm stoked about their appearance at Beyoncé's halftime show.
OS: OurStage is dedicated to helping the careers of up-and-coming bands. What advice would you give to new bands who want to do what you do?
CC: Be prepared to give up everything and just go for this. As soon as you make that decision that you want to be a successful band, your competition " and I don't mean competition in a dog-eat-dog sense; there are just a lot of bands out there " your competition is not the local bands in your area. For us, since day one 2008, it was bands that we were trying to be the same stature as. I consider my competition My Chemical Romance. You have to be hungry. Don't settle for less. Don't release stuff if you're not 100% happy with it. You've got to work your ass off. That sounds so cliché, but it's hard. You have to do a lot. You sometimes have to sacrifice your relationships. It takes a toll on you, but I wouldn't trade any of this for the world. You just learn so much. Just be prepared to give it your absolute all.
Catch Set It Off back in the states this coming March and check out their "Say My Name" cover below.
More like this: