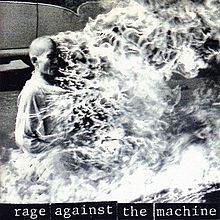 Can you believe it's been twenty years since Rage Against The Machine released their debut self-titled album? In 1992, the politically charged rap/rock hybrid group came right out of the gate with one of the most disturbing and controversial photographs of the 20th century as their album cover, a bold statement that showed the world just how serious they were about making an impact. Since then, Rage has been one of the most influential bands in the world, aiding not only in the world of music, but in the world of political activism as well.
Now, to celebrate the 20th anniversary of the release of their momentous first album, they will be re-issuing the record in multiple limited edition box set formats entitled Rage Against The Machine – XX.  According to NME.com, the release will "contain a remastered version of the album, demos and previously unseen live footage as well as a film of their 2010 gig in Finsbury Park and new liner notes written by Public Enemy's Chuck D. The deluxe box set will include "two CDs, two DVDs, one 180g vinyl LP, one 40-page booklet and two-sided poster, or as a Special Edition with two CDs and a bonus DVD featuring six tracks." There will also be a 180g vinyl edition and a single CD edition with three bonus tracks. Rage Against The Machine – XX is set to be released on November 26th. For more details and track-listings, click here.
If you enjoy Rage Against The Machine, then you might also like Ourstage's own Game Rebellion.
More Like This: