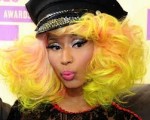 For anyone who has ever wondered what hip-hop turned pop diva sensation, Nicki Minaj does during her down time, you're in luck.
Beginning Nov. 4, E! will give fans an in-depth, candid look at the inner workings of Minaj's personal and professional life, releasing never before seen moments in a three part mini series.
Speaking about the both her upcoming The Re-Up DVD and E! series premiere, Minaj tweeted:
We watched the REUP DVD and the 1st episode of the E! series¦.u guys are going to go crazzzzyyyyy when you see it! NOV19TH DVD, NOV4TH E!
You can also catch Minaj on American Idol returning Jan. 16 at 8pm on FOX.
If you like Nicki Minaj, check out OurStage artist Lois LS Lane.
More like this: