Take a look back at the original Warped Tour lineup from 1995 and you'll see bands like No Doubt, Sublime, and Supernova. With the festival's rapid expansion and desire to include more diverse artists, today's lineup is a far cry from the original punk-centric focus of the tour. Luckily, Ballyhoo! frontman Howi Spangler has a plan to bring back the nostalgic sounds of '90s ska punk with the band's new material. The Aberdeen, Md. four-piece just recently completed the entire run of the Vans Warped Tour and are already back on tour until the end of September.
We had the chance to chat with Howi about life on Warped Tour, sharing the stage with reggae legends, and what the band hopes to accomplish with their next record.
OS: You've had a busy summer already! Tell us about the performances you've done so far.
HS: It has been busy! We started the [Warped ]Tour in Salt Lake City, and we're doing the whole thing. Every day's been awesome, the kids have been really great. We're getting a lot of new listeners that come up every day, so that's awesome. We have a guy in a sombrero that's out there selling CDs in the morning to the line, turning new heads. We hooked up this thing called the "Ghetto Blaster," it's basically our handtruck and we have a speaker, a generator and a mixer, and our set time on it, and it just blasts our songs. So he takes that out in the morning and it just puts it right in their face, like, "This is Ballyhoo! Listen up!"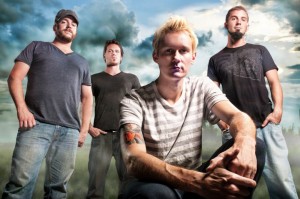 OS: What has been your favorite stop/state on Warped so far?
HS: Chicago was awesome, Chicago was really good. That's the first one that comes to mind. We had a really great crowd. San Francisco was amazing as well, we had a really good time there. We had five or six hundred people out there. Boston was really great today, too!
OS: What other bands have you most enjoyed seeing at Warped Tour?
HS: Motionless in White, those guys are sick. Just heavy screaming, heavy guitars, they paint themselves black and white…the crowd was nuts, it was really cool to see that. New Found Glory's killing it, Yellowcard's killing it every day. Tonight Alive, We Are The In Crowd, A Loss For Words…there's just so many good bands.