Ballyhoo! Release "Walk Away" Music Video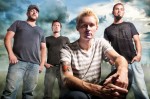 After a busy run on the Vans Warped Tour this past summer, OurStage's very own Ballyhoo! have released a brand new video for their song, "Walk Away." True to their well meshed reggae stylings, and blended with a little punk and pop for good measure, Ballyhoo!'s latest song is as catchy as it is lighthearted, turning the heavy subject of breakups into a lighthearted, party filled affair. Check out the video, which aired on Fuse, below.
If you like Ballyhoo! check out Ourstage artist Deadfish.
More like this: