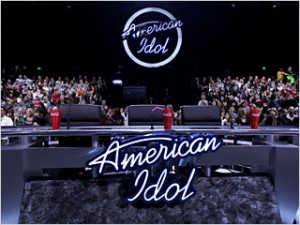 The drama is getting started a bit ahead of schedule over at American Idol. Ever since Jennifer Lopez and Steven Tyler decided to bow out from their roles as judges on the popular reality singing competition (though not Randy Jackson, apparently) there has been a great deal of speculation and conjecture as who will take over their spots. About a month since Tyler and Lopez' departure, it looks like the panel for Season 12 is finally coming together. Maybe.
Mariah Carey was one of the first names floated around as a replacement judge. Indeed, Carey was the first new face to sign on for season 12 to the tune of $18 million. But it looks like Carey might not be the only woman at AmIdol this time around; Nicki Minaj is reportedly close to signing onto the show for $8 million and an allowance for hair, makeup, and outfits. Knowing Minaj, that could easily drive her price tag into the tens of millions.
While it doesn't sound like Carey is too pleased with having to share the spotlight with another female performer it is unlikely that she would have been the lone diva for long. Katy Perry was also in talks with Idol to judge, though $20 million apparently wasn't enough to land her.
As for the guys it's still unknown who is going to be bro-ing out with Jackson in season 12. Keith Urban is in talks with the show and he would certainly lend the twang to the proceedings that Idol has been lacking. It would be an easy transition for Urban, too, as he has just wrapped up his judging gig on Australia's incarnation of The Voice. The other big hosting candidate would be rapper and living embodiment of ego Kanye West. It also sounds like West has some pretty powerful backers, namely American Idol host Ryan Seacrest and Kris Jenner, matriarch of the Kardashian clan and momager extraordinaire. So, he's basically got it, right?
More like this: