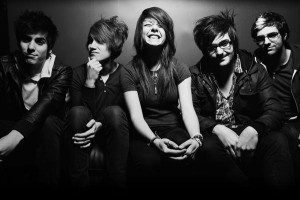 Streaming a week ahead of its release date, We Are The In Crowd's sophomore full length, Weird Kids is a force to be reckoned with. Hard hitting and packing just as much punch as you'd expect from these New Yorkers, the album is a beautiful reminder that these guys are far from finished. Plus, I never get tired of hearing the melding of Tay Jardine and Jordan Eckes' vocals in their signature call and response style. You can check out the stream below, and grab a copy when it drops Feb. 18 on Hopeless Records. You can also catch the band on their headlining tour with William Beckett, Candy Hearts, Set It Off and State Champs this winter. (more…)

In a scene where bands can easily cling too tightly to restrictive genre conventions, Massachusetts pop punks A Loss For Words stand out as a group who aren't afraid to take chances. Known for delivering tuneful, aggressive pop punk, they have also taken detours into acoustic EPs and even released an album of Motown cover songs in 2010. Upon the release of AL4W's most recent acoustic EP, Returning To Webster Lake, singer Matty Arsenault sat down with us to talk collaborations, covers, and the status of his R&B side project.
OS: There's a video floating around of a guy proposing to his girlfriend during one of your Warped Tour sets. How did that whole thing come about?
MA: Our drummer, Christian, met the kid when he was in a band called I Call Fives.  He stayed in touch, was a fan of our band, and wanted to do something special.  He talked to Chris and we OK'd [it].  It's pretty hard to say no to something like that…. (more…)

Releasing three albums in just 18 months sounds like an exhausting endeavor, but you wouldn't know it from the looks of Yellowcard at their recent Vans Warped Tour dates. The band is as full of energy as they were back during the early 2000s, and are gearing up for the release of their newest studio album Southern Air. We sat down with guitarist Ryan Mendez at their Mansfield, Mass. Warped Tour stop to talk about his early days on the tour, the writing process for the new record, and the album's one big guest appearance that didn't make the final cut.
OS: It's the band's 5th time on Warped Tour.  What's different this time around?
RM: Well, I did the tour in '02 and '04 with my old band when we were traveling in a van, and it was just the most bottom-of-the-barrel experience of paying your dues on Warped Tour. Now, with us being at the level that we're at, and me being a part of Yellowcard, it couldn't be any more different for me. We did about half of the tour in '07, and that was awesome too, but we were in kind of a tough time as a band then, and we were having issues with our bass player, who ended up leaving the band later in the year. It was just not the right mental page for us to be on, but now everybody's doing great, we've got a new record coming out, and the tour has been awesome. Warped just treats us so well, and we've been having a great time.
OS: Yeah, the reception at your show today was awesome
RM: I think it was probably the best show of the tour for us. Before that, I think Chicago was the best show, but this might have taken it's place!