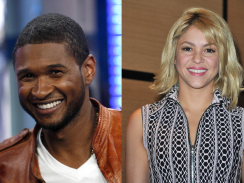 We previously discussed some of the big changes to The Voice as of Season 3, but there's already huge news about Season 4: Usher and Shakira will be replacing Cee-Lo Green and Christina Aguilera as judges. With all of the recent drama surrounding new American Idol judges, we were hoping that The Voice would continue to keep their loveable set of coaches. Sadly, the show must go on, and so must the coaches' own careers.
With a new album and subsequent tour, X-Tina will be replaced by Latin/pop crossover artist Shakira. Shakira seems like an odd choice, considering the other coaches are constantly dominating the charts, but we're willing to give her a shot. Usher, on the other hand, is an excellent replacement for Cee-Lo (though we'll certainly miss Lo's crazy outfits…and pet cockatoo). He will be leaving the show to work on his upcoming sitcom.
Season 3 of The Voice is currently airing on NBC on Monday and Tuesday nights.
More like this:
Exclusive Q and A: Juliet Simms Takes Us Behind The Scenes of ˜The Voice'