iRock: The Gallery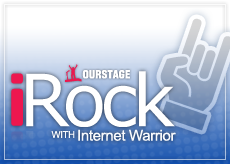 If you're looking for some solid indie-rock then you have come to the right place. The Gallery successfully captures that indie sound while giving it their own unique spin. Bordering on a folk-rock-esque style these guys bring a new light to the rock game. While perusing the various Rock Channels one night, the track Life Is Strange caught my ear, and I knew right off the bat ,when my foot began tapping uncontrollably, this would be the next iRock artist. As their biography states, they write catchy melodies that will [be stuck] in your head and have you singing along. This is, in fact, right on the money. I was able to catch up with Dave and ask him some questions about The Gallery and their musical love affair with professional surfer Erica Hosseini ¦ just kidding ¦ or am I? You heard it first right here on this week's iRock!

IW: Introduce yourselves
DAVE: Hey, we're The Gallery. This is Dave writing. I play bass. The other guys are Brendan (lead vocals/guitar) and Ryan (drums), the brothers, and we've actually just recently had to replace our lead guitarist, so we're working that out currently.

IW: Give us some background on the band and how you chose the name.
DAVE: Well the three of us have been playing together since 2005 and started the band not long after that. We're all from Massachusetts and all went to school in South Florida, so it worked out well while to go to school somewhere we could be together to play. Our name wasn't too deeply thought out, although we've come up with some good background stories for it. It's really just a metaphor for presenting our music, however you want to take that. But we're gonna change the name soon anyways, so don't worry about it, haha.
IW: Talk about writing/recording your debut album If You Know What I Mean.
DAVE: We wrote the songs for IYKWIM over the course of a year or more, most of which was while we were attending college so it ultimately came down to the wire before we went in to record. We recorded the album at Wade Studio in Ocala, FL with Andrew Wade. It took us about a month, but it was one of the best experiences of our band-lives. Being our first full-length album, we didn't really know what to expect when we went in to record, but Andrew helped us through the process a lot and we're happy with what we got out of it. Funny story: While we recorded the album, we stayed in a friends' grandmother's old vacant house. It was about a 20 minute drive from the studio and had literally no amenities (besides one bathroom) because it was being renovated. We picked one room and slept and hung out on that floor for the month. It was quite an experience, but we'll never forget it.
IW: You toured with Showbread (Tooth & Nail) as your first national tour, how did that pan out?
DAVE: Honestly, we were skeptical at first, because our musical styles are so different, but it ended up working better than we thought. All the guys are super-relaxed and super-funny. It was a long tour, especially for us who hadn't played anything national like that before, but amazingly we got to every show without any problems whatsoever and were able to sell enough merch to pay our way around the country. It was a blessing in disguise for sure, but we're thankful for every minute.
IW: Are you guys currently looking for a label? Or are you going to stay down the path you're going now with your management?
DAVE: We were recently released from our contract with the label we were on, Blue Duck Records out of Boston, so we now have some options. We're working with our manager to shop our two newest songs, and more that we're writing, to some other labels, so we're just waiting to see what happens with that.
IW: Give some insight to young bands who are trying to break through the local scene and push their way into the national pool.
DAVE: This last tour was the best thing for that. It's hard to start playing nationally for sure, and we've only just begun, but the more buzz you can establish in your local scene the better your chances are of getting noticed by a touring band. Unfortunately we've seen many bands try to prematurely jump right into the national touring scene and end up spending thousands of dollars and playing for ten or so kids every night. We think it's best to give the local scene it's time to marinate so that when you get out on tour it won't be such a struggle. And make sure to get an oil-change every 3,000 miles. It'll keep the van running smooth. Heck, it'll just keep it running.
IW: Talk about your live shows. Do you incorporate anything in them to stand out from the rest?
DAVE: We've always been pretty straightforward when it came to our live show. "Let the songs speak for themselves." We've never incorporated much sampling or anything into it, but we're starting to trigger sounds and transitions now that's diversifying the set a bit. We're not planning on any huge, extravagant synchronized light show anytime soon, but ya never know, we might all wear matching suits on the next tour.
IW: Your song Consider This was a featured in a video about professional surfer Erica Hosseini, talk about how you were able to achieve this and what it has done for your career.
DAVE: Our good friend from school, Noah Carlson, was a film major and has been really productive. He moved to LA and has been doing some great work. He's shot some live shows for us in the past, and randomly emailed us about this video he had done. He needed a song and we were all about it. It's definitely cool to have some friends in that industry and see some of our songs being used in conjunction with their films. Hopefully we'll see our surfer fanbase increasing with this opportunity.
IW: Last but not least, talk about anything you'd like readers to know about The Gallery.
DAVE: Well, we've got some great things planned for 2010. Some new songs, new tours, and sort of an overall new us, so keep in contact with us, we'd love to hear from you! Thanks so much!