Q&A With Tegan & Sara

The whole realm of musical duos is gaining more and more popularity in the music industry. She & Him, Matt & Kim, Meg & Dia and"of course"Tegan & Sara. The thing that sets the latter apart is sheer versatility. You'll find these Canadian twins relaxing you with acoustic performances immediately followed by dance numbers to get you moving. They even mix a substantial amount of indie and punk rock into their sets. Needless to say, they've got something for everyone. We caught up with Sara Quin to talk about their collaborative songwriting, their view on music awards and their overall musical goals.
OS: Lately, you've attempted to write songs together, rather than separately. Any sibling drama when working together directly, as opposed to your normal remote collaboration?
SQ: You know, not just with music, but with every aspect of our career, there's an element of debate and conversation about a lot things that we do"making decisions for art and video and that sort of thing. So, certainly when we're face-to-face and we're dealing with stuff, it can sometimes turn into arguments or animated debates. But, for the most part we've sort of found a way to work through those issues. Certainly doing the songwriting long distance and generally giving each other space to make art without immediate critique or feedback has been really helpful. Writing in person sort of eliminates that buffer zone, but we made it through without too much friction. I think, because we were so excited by the results, it was helping to smooth over some of the difficulties. We were really establishing, Wow, okay so this is how you write a song. That's so interesting. That's not how I would do it. I think we were able to get past some of those bumps because we were both really excited about what was coming out.
OS: Only one of these co-writes made the final cut of Sainthood. What happened here and are we ever going to hear the other songs?
SQ: Yeah! We would eventually love to release the material, and who knows, some of them might get spiraled into something else. I think, ultimately, it was really late in the writing process, and a lot of the music just sounded so different than what we had already written for the record, that the songs just ended up feeling a little bit like they wouldn't work. So, we sort of set them aside for a later date. It was less about whether or not the songs were good, because it was such a new thing, they really had such a different feel it didn't make sense.
OS: You've been nominated for a bunch of Juno awards, but have never taken one home. Your latest album was nominated for the Polaris Music Prize. Do you think winning this award would put you on a different level as Canadian artists?
SQ: I don't know. I personally never have put a ton of energy, or assigned any sort of value to those types of things. When you're in the music industry, you see that there're a lot of politics behind them, and often it's not necessarily representative of everything that is out there, or what I would deem as good or the best of. You're always weighing that with the natural desire to be acknowledged and recognized within the industry and in the public eye. Certainly when you're winning these awards, or being nominated for them, it makes you feel good, and it sort of elevates you to a different status, and your parents are happy"that sort of thing.  So, I definitely don't want to speak too negatively about them, but it's important to balance being interested and excited and also knowing that they don't totally matter, whether you win them or not. I would still feel like we had made a really fantastic record whether it had been nominated for the prize or not. If we don't win, that's okay too.
OS: It seems that the band has an interesting presence in the punk scene as well as the indie rock scene (Tegan's collaborations with Against Me! and Alkaline Trio and yours with The Reason). Are you simply rock stars at heart?
SQ: I'm not. I think we always sort of felt awkward. I don't think we ever felt comfortable with the idea that this would be our career, or that we would be professional for years. There was always this idea that it was just a hobby or it was something that was really fun. Then, all of a sudden, you find yourself really addicted to the lifestyle. So much of what the public sees is you on tour and onstage, and I think that's where this idea of the rockstar sort of comes from, but so much of our lives is behind the scenes"songwriting and working on projects. It's very isolated, and there's a solitary, introverted element to a tremendous amount of what we do.
Behind the scenes, you're interested in working on stuff. Mostly it's alone, but then every once in a while an artist or someone will come along and ask you to contribute something. It's just naturally reaching out, branching out and having a community. When people are working on albums and they're looking for other people to throw their personality or their style into the project, you jump at the chance to do it. Like, for us, obviously we're not a dance project, but it's really fun to work with dance artists, because you get to sort of see yourself in a different light.
OS: Along the same lines, you perform along side artists of many different genres, like this year's Civic Tour with Paramore and New Found Glory. What's it like keeping up with acts like this?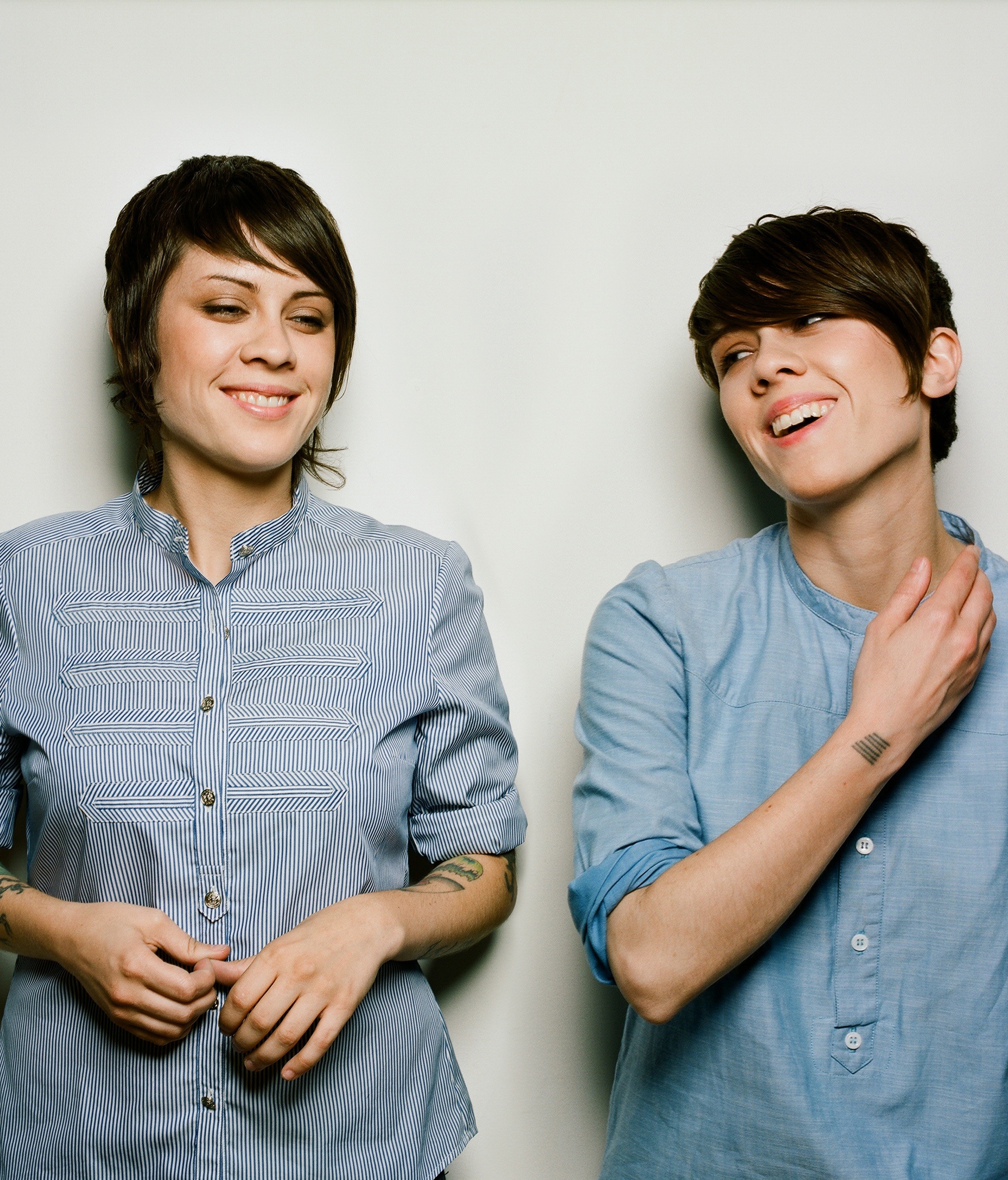 SQ: I think what we do is adaptable. We're versatile and we can tailor our set, energy level and the dynamic of our set to meet a lot of different venues and support gigs and festivals. Maybe we'll stand out. I don't know that we'll necessarily fit in in the sense that we'll be interchangeable with those bands. But, I definitely think that there will be people in the audience that appreciate hearing something different, or seeing a different approach to the music that we're making. I feel really excited about it. There's always an element of fear or danger when you're opening for a band that isn't exactly doing what you do, because you don't want the audience to hate you. But, I really believe Paramore in particular have a fantastic audience. Hayley is so wonderful, and I think even though they have a very big audience, there's a parallel in the way that we connect with our audience. It seems very personal, and they're rooting for her, and I'm hoping that will extend to our band.
OS: You've both had mixed responses to the media's portrayal of you as twin, lesbian, female musicians. This year, you had one date at the Lilith tour which celebrates women in music and their sexuality. How does the whole Lilith thing fit in with you guys?
SQ: Well, we are doing one show with Lilith. You know, it's like a festival. For example, we were over in Europe doing rock festivals in Germany, and we did Glastonbury in the UK. You take into consideration who the audience is and what might get their attention, and you sort of write a set list that will make sense at that venue. With Lilith, obviously with the focus on women musicians, you're going to see a lot of women in the audience. I think that it means that Tegan and I can do what we do best. We have a really dynamic catalog of music, and I think I'll feel more comfortable doing a set that's a little more representative of what our entire catalog is representative of.
Whereas when we're playing a rock festival at midnight in Germany, we'll probably play more heavy music, or we'll play most of our rock songs. We won't be trying to do the acoustic sing-a-long's. I think Lilith is great. I don't worry as much about being pigeonholed because of our gender or sexuality the way we did when we were younger. I think we now have the history in the industry. That helps us get out of the category of women making music for women, which used to sort of drive us crazy. Based on the artists that we've supported and the festivals that we've done, and how mainstream/wide of a spectrum our audience is now, I think we're not worrying that there's limitations because of our gender or sexuality.
Check out Tegan & Sara's upcoming tour dates:
9/7- Kiefer UNO Lakefront Arena, New Orleans, LA
9/8- Cynthia Woods Mitchell Pavilion, Houston, TX
9/10-Nokia Theatre, Dallas, TX
9/11-Cains Ballroom, Tulsa, OK
9/13-Red Rocks Amphitheatre, Morrison, CO
9/15-Dodge Theater, Phoenix, AZ
9/17-Theater at HP Pavillion, San Jose, CA
9/18-Viejas Arena, San Diego, CA
9/19-Honda Center, Anaheim, CA
9/24-Malkin Bowl,Vancouver, BC