Will Ozzy Win a GRAMMY? Ask Your VIP Ouija Board!
It's probably an understatement to suggest that by all rights Ozzy Osbourne should be a dead man. A serious ATV accident almost snapped his neck. The plane that crashed and killed beloved guitarist Randy Rhoads smashed into the tour bus in which Ozzy was sleeping, flinging the rock icon out of a vehicle engulfed in flames and split in half from the impact. Then there's that legendary appetite for dissipation, described thusly by the man himself in the introduction to his recently-published autobiography, I Am Ozzy: Over the past forty years I've been loaded on booze, coke, acid, Quaaludes, glue, cough mixture, heroin, Rohypnol, Klonopin, Vicodin and too many other heavy-duty substances to list in this footnote. On more than a few occasions I was on all of those at the same time.
There's little doubt that Osbourne's antics and misfortunes have given him at least glimpses of the other side; now fans are being invited to experience the same in a much safer manner with a custom edition of the talking board game (or parlor trick) known as a Ouija board. Safe and sober for the time being, Ozzy is concentrating on his music. Enjoying a career resurgence, the Prince of Darkness has just been rewarded with a GRAMMY nomination in the Best Hard Rock Performance category for Let Me Hear You Scream, the Number 1 hit single from his current album, Scream. Never one to pass up a good marketing opportunity and have a little fun at the same time, Ozzy is giving purchasers of a VIP ticket to remaining shows on his in-progress tour a collectible Ouija: The Ozzy Osbourne Edition game, with which users may or may not be able to converse with the spirit world.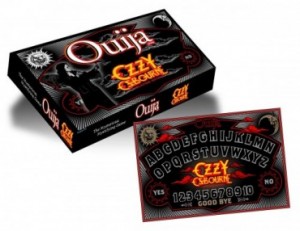 For those not quite up on quasi-satanic home entertainment, the Ouija board supposedly allows the dead to communicate with the living by using the board's planchette, or pointer, to spell out answers to your questions. The Ozzy Ouija board, done up in black and decorated with the Ozzy logo, is not available commercially but they'll turn up from time to time on sites like eBay. You may want to get a hold of one, one way or the other; after all Ozzy's luck will run out sooner or later. Then ask your Ouija board Is anyone there? and if the answer back spells out Shaaaarrron! you'll know just exactly who you're talking to.
Ozzy VIP ticket packages with Ouija board can be purchased at www.LiveNation.com. The tour ends February 22nd and for now only the spirits know if Ozzy will win an award on GRAMMY night, February 13th.
Kevin Wierzbicki is a music and travel writer based in Arizona. His articles about music, travel and music-related travel have been published in the likes of USA Today, The Arizona Republic, Desert Living Magazine, Campus Circle in Los Angeles and Antimusic.com.