LCD Soundsystem And The Bands We Hope Never Stop Touring
LCD Soundsystem announced their last show of their final tour a few weeks ago, as though you hadn't already heard. On April 2nd, the band will grace the stage at Madison Square Garden for their sold out farewell show, capping off a valediction of both shocking and well deserved amounts of hype. They will play their swan song, they will leave the stage and that will be the end of one of the great dance-punk bands of our generation. We're still bummed that we couldn't get tickets to that show, or to any of  the ever increasing number of gigs leading up to the MSG date (Side note: kudos to James Murphy for blasting the scalpers! Seriously, that guy is a class act).
But that's beside the point. It got us thinking, LCD Soundsystem made a big deal out of this being their farewell tour but they hadn't really earned their bonafides a live band du jour, as a touring entity, up until that point. Unlike LCD, there are some bands that have always made a big deal out of their live show, that seem to exist only to tour. Not that that's a bad thing. Let's take a look at some of the artists we hope never stop touring:
Bob Dylan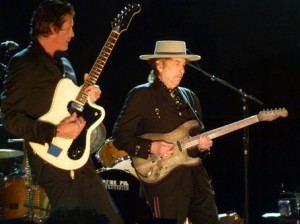 A rolling stone gathers no moss, and even though Dylan is old enough to have moss grow on him, there's no stopping this man's touring regimen. His tour schedule since June of 1988 has been dubbed the "Never Ending Tour"; this globe-trotting tour has Dylan performing around 100 days out of the year, and he's kept up this pace in spite of the fact that he's almost a septuagenarian. You'd think the man might want a break or a nap or something after so many years. Still, he's already got April dates lined up in Australia. We should count ourselves lucky that we've heard so much from him, and we'll probably be hearing more from Bob in years to come.
Reel Big Fish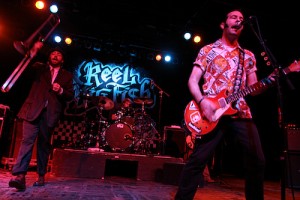 These ska-punk workhorses have been at it longer than most of their ilk from the mid '90s. You could've gone to see them at some festival in middle school, you caught them in the club when they headlined in high school and you went to their show again in college when you were feeling a wee bit nostalgic. They just wrapped up a tour with fellow goof-punk road warriors The Aquabats in January. So what do they have on their plate for the upcoming year? A European tour, you say? Suprise suprise.
Phish
This spot could have easily gone to Dave Matthews Band if they weren't planning on taking 2011 off, kinda. And sure, some may cry foul as there was a long stretch when Phish didn't tour, but we won't count periods of band hiatuses/ breakups.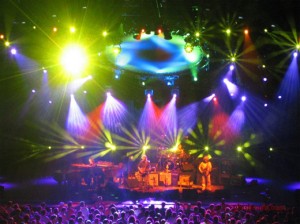 Phish's reputation as a band is based off of their live show. Not only in how technically good it is or how "communal" (read: chemically altered) the atmosphere at one of their gigs is but also in how Phish fosters the live experience with their fans. For those who don't follow the band, Phish's fandom is reminiscent of the Grateful Dead's and a lot of other prominent jam bands of yore. And a big aspect of that culture is bootlegging. I won't go into the number of Phish phan phorums (I'm sorry) on the Internet; suffice it to say, they're numerous. The online dedication to Phish is also unique in the number of ways fans can get their hands on live material from the band. You can find high quality audio recordings from nearly every live set the band has done on their Web site and the fan bootlegs and set lists for Phish shows spanning their entire career can be found all over the web.
Frank Turner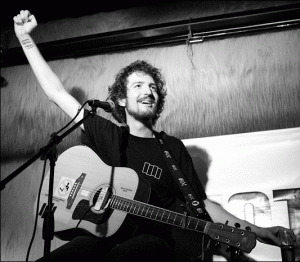 The man has been in the solo game for about 5 years now and has taken to touring with a workmanlike approach. There's no need to count his time in hardcore band Million Dead in his total number of shows played because his solo schedule is so impressive that it speaks for itself. Since Turner started flying solo, he's played over 1000 shows at a rate of a little over 200 shows a year. And he's still had time to record three LPs, a handful of EPs and demos on top of all that. I wonder if he'll go out on the road behind his next album?
What artist would you add to this list? Let us know in the comments.