Q&A With Yellowcard

Yellowcard surprised everyone in April of 2008, when vocalist Ryan Key announced that the band was planning an indefinite hiatus. Citing a need to face adulthood and figure out their personal lives, Key said that the band could be disbanded for up to ten years, and added that he didn't know if they'd ever make another record.
Luckily, Yellowcard fans didn't have to wait too long. The band is back in 2011 with a new album, When You're Through Thinking, Say Yes, as well as a slew of tour dates across the world. We caught up with violinist Sean Mackin to find out about the hiatus, the new album, and why Yellowcard has the greatest fans in the world.
OS: So how is everything going for Yellowcard post-hiatus? Have you been able to jump right back into a rhythm?
SM: It's been amazing. It has been strangely like riding a bike. This chapter of Yellowcard is really exciting for us because we didn't know when we'd be able to pick it back up, and everything has worked out amazing, from working with Neil Avron on the record that just came out (When You're Through Thinking, Say Yes) to all the shows in Japan. We're in the United States now, but we did a quick world tour. We literally went around the planet, starting in Japan to the Phillipines and Moscow and Finland where we'd never been. And then we met up with All Time Low, who's an absolute juggernaut right now, they're amazing, and went all through the UK. And now we're a weekend in the States, and it's just so much fun. We're hanging out with everyone every night. It's just a really cool moment for Yellowcard.
OS: When the hiatus was announced, Ryan [Key, vocals] said that it could be for a year, 10 years or 6 months. How did you determine when the time was right to reunite?
SM: It wasn't really a conscious effort. I think LP [drums] just reached out to Ryan [Key, vocals] and myself. Longineau gets a lot of credit for kind of being like, Hey guys, want to do a new record? And it kind of just evolved as we started peeling the layers off "what label, what time frame, what producer"it was almost like fate. It was just meant to be, because it came together so effortlessly. It was amazing. So we were like, Okay, we have to look at a couple different things and make sure we can afford to do this. Hopeless Records has been a big part of that, putting the album out. We had a great relationship with our previous label, but Hopeless has been a perfect partner. It feels like Yellowcard's the only band on their label, and they're helping us out. You caught me at a really positive moment in our life right now. We're all smiles in the camp.
OS: This was the first album you released on Hopeless Records, how did it feel to return to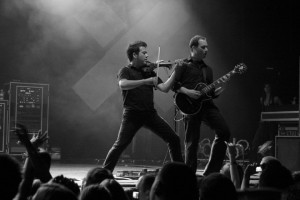 an indie label after your years with Capitol?
SM: It's been really easy. I think it's also different, because with the music industry right now, there's all these social outlets. There's always the Internet and stuff, but it's amazing how far-reaching Facebook and Twitter and all these media outlets are. We're almost doing a lot of the marketing ourselves, and a lot of the things that the record label used to do. So you need less people. And a lot of people know about Yellowcard now thanks to our previous label, so we're in a position we've never been in before. We wanted to go into the studio and make a great record and this is a great snapshot for us because it's the best version of Yellowcard we've ever had. We're really focused about having good songs and entertaining our fans and really, the moment of appreciation for it. And Hopeless understands that. They're not in our way, they're not stepping on our feet. We hear a lot of horror stories of how record labels and bands don't get along. Throughout our career, we've been very fortunate that we've never had that. A lot of credit goes to Hopeless right now for continuing that trend for us.
OS: Was your recording process any different after taking some time off?
SM: Well, yes and no. The time off was actually really similar to how we wrote One for the Kids and Ocean Avenue. It was so much pulled from as an influence and an inspiration, and I think you can hear that energy in the music. I've been referring to it as a rejuvenating effect. And it's really awesome to have that. Everyone always says, You have your whole life to write your first record, you only get six months to write your second. So with When You're Through Thinking, Say Yes being released right now after a couple years off, we had another batch of life. We've always written with our hearts on our sleeves, so it's really nice to have that again. And with the actual process, the only difference was we lived a little further and it was a little more condensed. Usually we take two months to write the record and work with Neil to do the songs, and usually we take another two months to record. And in this case, the exciting part was emailing the songs and trying to visit Ryan Mendez [guitar] in Phoenix and Ryan coming up to see me in Seattle. So that was really exciting, as a new style. But again, when we were in the band room, we had that riding a bicycle thing. So that was a really cool part of this process for us.
OS: We're never sure how much we can trust what we read on the Internet, but some sites are reporting that your favorite song on When You're Through Thinking, Say Yes is Be The Young. Is that the case?
SM: Yeah, I have a couple different ones. I really like Be The Young. I feel like Ryan… it's great to be in a band with such a great poet and narrator and frontman and singer. And I think musically I've mentioned Keep Me Smiling. The last two songs on the record are really close to me.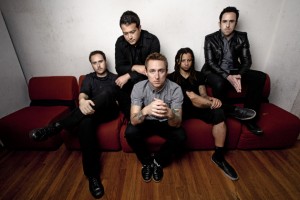 OS: So if those were your favorites, why did you guys go with For You and Your Denial as the first single?
SM: I mean, I was totally excited when we went with For You and Your Denial. It had a working title of Violin Intro, and in ten years that's the most violin we have on any of our songs. So it's really flattering that we went with that. And it just picked up traction. It was just supposed to be an online teaser, like a leaked song, and people really embraced it like a full-blown single. We don't really have the coverage or anything like that. Even the video, our director was gonna do a video for Hang it Up, and he said, Oh yeah, I'll shoot some footage for ˜You and Your Denial' and we'll kind of put stuff together. It was never supposed to be on TV, and that's why you never see our faces at the peak of the comeback, or whatever. People really embraced it. It was a pretty unbelievable moment, to watch it pick up traction like that and go, Oh my gosh, we have the best fans ever.
OS: Did you ever think growing up as you played the violin that some day you'd play it in a rock band?
SM: No, not once. I never wanted to be in a band, either. We went to the art school in Jacksonville, Douglas Anderson, which was a great experience for me. I met wonderful artists and musicians, I just really liked playing violin as opposed to guitar. So the guys started a punk rock band, and we were all buddies. My Mom actually was like, "You're gonna get in trouble. You're hanging out with the wrong kids." I was like, "Mom, I'm a good kid. I know what I'm doing." It was a lot of fun, but never once did I think" you know, I thought I was going to be a music teacher or and engineer or something like that. I never thought I'd be in a band. It's a nice evolution of life, where it takes you and where you end up. I'm very fortunate to be in Yellowcard.
OS: So you guys are touring with All Time Low through May, do you have any plans after that? Are you going to take some more time off?
SM: We actually get, I think it's like 10, 12 days off, and then we're booked this year all the way through Christmas. We love it here, but we kind of neglected the international fans and so we're going to go back to Southeast Asia at some point, we're going to go to South America, we have to go to Canada, Australia, New Zealand and I'd love to go to Japan and the UK one more time before the year's over. And we'll probably fit in some headlining in the US. So we have a very busy year, and we hope to have a very busy 2012. We're just very lucky that we have the best fans.
Check out When You're Through Thinking, Say Yes here, and don't miss Yellowcard on tour!