U2 360° In Numbers
Two years and one month ago, a group of Irish fellows by the name U2 set off on a record-breaking musical adventure around the world. Spanning five continents, seven tour legs, and over 100 performances, the band was about to make history. Their first date (June 30, 2009) was at the legendary Camp Nou stadium in Barcelona, Spain, to a sold-out crowd of over 91,000. Their last performance was last Saturday in Moncton, Canada, a venue that has played host to over  75,000 concertgoers in the past. "What's up with all these numbers," you ask? To commemorate the culmination of their tour, we've gathered some of the ridiculous statistics to ponder.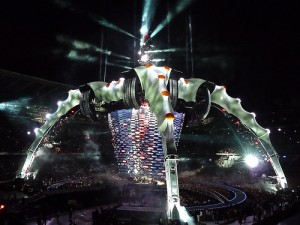 Records Broken:
– Highest attended tour: Over 7 million tickets sold
– Highest grossing concert tour: Over $700 million in ticket sales
– Most watched live stream on YouTube: Nearly 10 million people
– Highest set structure: 167 ft.
Stats:
– Three sets built: Since each set took four days to put up and three days to take down, U2 had to stagger their tour dates and adjust to each of the caravan's travel times
– 120 trucks to move each set, including all the sound and light systems, the structure, instruments and crew
– Cost of each individual set: Approximately $25 million
– Crew size: 137 in the permanent touring production, plus over 120 hired locally at each venue
– At the end of the tour, all sets will become a permanent venue somewhere in the world, each with its own high-quality sound system and tracked screen
– U2 sold out all 104 shows, many in mere minutes after tickets went on sale
– Daily cost of concert operations: $750,000. It was estimated that the tour would not break even until the second leg was over
– Major artists appearing as openers: Black Eyed Peas, Jay-Z, Lenny Kravitz, Muse, Florence and the Machine, Interpol, Snow Patrol, Kaiser Chiefs
– The moving and expanding video screen has over 500,000 pixels: The band paid $2 million to raise the "Jerry-tron" at Dallas' Cowboys Stadium during their performance so they could fit their own screen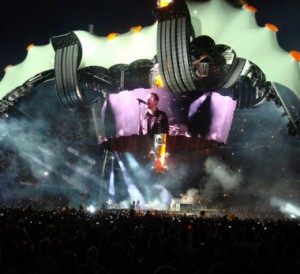 These numbers leave us perplexed. How can U2 be such a powerhouse, even in a recession? One thing is for sure, though: There was no way you could not enjoy this concert. We can't wait to see what they'll come up with for their next tour.