Riffs, Rants & Rumors: Zechs Marquise Carries The Mars Volta Torch

It's hard to believe it all started with a '90s post-hardcore band. Admittedly, At The Drive-In was one of the weirder exponents of that style, but still, even given the relative eccentricity of the El Paso band's output, it would have been pretty damn tough to prognosticate what would come in their wake simply by analyzing their discography. Of course, as any halfway-serious follower of either band knows, At The Drive-In gave birth to The Mars Volta around the turn of the century, as ATDI's singer Cedric Bixler-Zavala and guitarist Omar Rodriguez-Lopez defected to follow their own quirky vision.
Soon, Bixler-Zavala and Rodriguez-Lopez were turning heads with their new band, blasting out an in-your-face amalgam of progressive rock, fusion and hard rock that would eventually earn them a GRAMMY and a Gold record. Since then, the tireless Rodriguez-Lopez has also unleashed a whirlwind of extracurricular projects that would make even Robert Pollard seem unproductive, including a sideline as a ridiculously prolific solo artist. But there's a Mars Volta offshoot that boasts one MV member and at least two Rodriguez-Lopezes but does not contain Omar. Confused? It'll all become clear as we dig into the details of the Zechs Marquise story.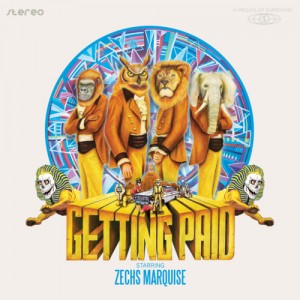 Zechs Marquise was formed in 2003, releasing a live recording in '06 and their first studio album three years later. Their latest, Getting Paid, is a bold sonic statement from a band that includes Mars Volta percussionist/keyboardist Marcel Rodriguez-Lopez and bassist Manfred Rodriguez-Lopez, both Omar's brothers. Since the making of the album, yet another sibling, keyboardist Rikardo, has apparently come on board as well. It will probably not come as a huge shock to anyone that Getting Paid inhabits a similar stylistic universe to that of the "big brother" band, and in turn, Omar's solo work.
Guitarists Matthew Wilkson and Marcos Smith round out the cast on what is predominantly an instrumental record, though guest singers pop up at a couple of points and all the Marquise men make vocal contributions as well. The wildly surreal album art, teeming with strange creatures in a sci-fi-flavored setting, offers up a hint as to what waits within. The front and back covers look like a cross between the art for Santana's Abraxas, Miles Davis's Bitches Brew and Roger Dean's illustrations for Yes, and the music follows through on those allusions, though that's hardly the whole sonic story here.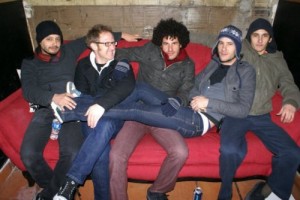 Searing psychedelia is clearly a part of the picture, as ripping, Hendrix-like guitar lines abound, but the structural sophistication of the record bespeaks a prog-rock influence that's borne out all over the place, by the tricky time signatures, fleet-fingered riffs, soaring, analog-sounding synth riffs and Getting Paid's overall ambitious spirit. The spiritual subtext of early jazz-rock seems to figure into the equation too, as does a kind of hyperactive blaxploitation-soundtrack sensibility. The occasional touch of '70s hard rock and even '80s metal adds a bit of rock & roll roughage without ever taking things anywhere near the "hipster metal" territory of Pelican, Boris, et al. Ultimately, this is the kind of album that stoners and geeks alike can embrace, though the former would never be able to accomplish anything this technically demanding and the latter wouldn't bring the necessary brashness to the table" instead, they can each sit back and admire the marriage of erudition and expansiveness that makes Getting Paid possible.