Exclusive Q&A: MuteMath Revive Their Creativity

After a rough recording experience with 2009's Armistice, New Orleans rockers MuteMath decided to reclaim creative control. The result is Odd Soul, a back-to-basics, bluesy record that speaks to the band's live strengths, first and foremost. The album inspired the band's upcoming Odd Soul Tour, which features breakthrough 3D video technology on top of stellar performances from both MuteMath and opening act Canon Blue. OurStage caught up with drummer Darren King to talk about how the band were able to revive their creativity, what gets him pumped up to perform and his goals for 2012.
OS: You had some difficulties with the making of [2009's] Armistice, specifically with songwriting and working with a new producer. What did you learn from that experience and how did it influence your approach to recording this time around?
DK: I learned a little bit about not making things any more difficult than they need to be. I learned, through that process, the most valuable lesson I learned in my career so far. Of course, there are difficulties and parts of it that are frustrating, but you're not supposed to hate music. You're not supposed to hate the process. It's fine if it's a little arduous, a little frustrating, if you get stuck and get writer's block…all of that's good. But there's always supposed to be this passion in it, it's not supposed to be just this uphill climb, feat of strength just go get through it. From that point on, I vowed to make it fun. And whenever it gets gross, I start over again, in regards to songwriting, or the process of creating. You're supposed to feel like you're cheating at life by getting to do this for a living. And I try to present that, I try to fight for that now, and a big part of that, oddly enough, was not having a producer for this record, and it being just the three of us.
OS: Odd Soul is the first album you've made without original guitarist, Greg Hill. How did this change affectyour approach to the new album?
DK: Todd [Gummerman, guitarist] didn't come into the picture until after the album was finished, so we had all of the guitarists that any band would ever need, and our bass player, Roy [Mitchell-Cárdenas]. [Roy] did a marvelous job of bringing all kinds of creativity and spark to the process to the process. I think he had a lot pent up in him too; he's a talented guy.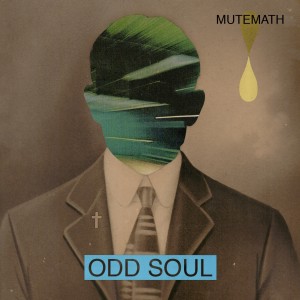 He was a guitar player before he did anything else, so that was an easy transition. He stepped up, too. He's a father of two, and both he and our lead singer were expecting children during the recording of this album. Roy would drive all the way from Miami to New Orleans, he'd drive through the night, and show up with a great attitude. It was really inspiring. And now we have our new guitarist. As we were finishing our songs in the studio, I would send them to him, and he would tell us that they were fun to play. He worked really hard to get ready for his audition. We were expecting to audition Todd in person, but he got to a place where he knew the songs well enough that he got tired of waiting for us, and he'd just email us his takes. He would play the songs, record himself, sing along, play along and he'd email it to me…and I thought that was ballsy! It made it easy; definitely our first audition via email!
OS: It's rare to see a drummer that is so involved in the songwriting process. Does Mutemath have a certain method for how you write together?
DK: I think I'm more involved than you even know! Right now, I'm putting together our live video show and it's time consuming, but I love it. This is probably the first time I've mentioned this…we're doing a very exciting, 3D video show on this next tour. It's been very tedious, but we're working with some people in New York and some people in Nashville and we decided to try and go all in on this tour to make it big. So currently, my days are spent programming and animating video for this live show…it's a new-found interest of mine.
OS: Odd Soul has a more blues-influenced sound than Armistice. What was the cause behind this shift in sound? Were there any particular artists that influenced you while writing this record?
DK: It's so funny how the influences that I think I'm going for the most, don't really seem to be the ones that come through in the end product. I'm not sure if that's a good thing, either. But Roy's playing opened up a lot of opportunities for us. All we were going for was something that would go great live. All the bluesy-ness didn't so much come from us saying, "Let's try to do something a little Jimi Hendrix-y," or, "Let's do some Led Zeppelin riffs." It was really that we didn't want to make a sleepy album. We didn't want to make something that would be convoluted, live. We wanted to make something that would allow us to play to our strengths as a live band. The whole idea behind the record was to set up the tour that we're about to do now. The big tour, with the video show and the lights and all of the antics. After Armistice, we released a live record, and I remember reading a review of it that said something like, "Why is this MuteMath's best record? Why is their best record this live record?" And I thought, well, it probably makes sense that it is, to them. There's probably some switch that we turn off when you go into the studio. Music can be a little like taxidermy. You can start replacing the real stuff with the glass eyeball and get real meticulous with making things seem real. And I think it has to be that way, to an extent, whenever you do music in the studio. So we tried to make [Odd Soul] sound more real.
OS: You've had your songs featured on the soundtracks for major motion pictures like Twilight and Transformers. How have these placements changed or impacted your fan base?
DK: Don't forget The Sisterhood of the Traveling Pants 2! Yeah, we did get some younger fans through Twilight, and I loved it. We got some hatred through Transformers. Some people loved it, but there were some hardcore Transformers fans that were livid that it wasn't heavier, like…[metal growl]
OS: Before the new album dropped, Mutemath played some smaller clubs on the Odd Soul Introduction Tour. How will this upcoming tour be different from those shows?
DK: It will be longer. Right now, I'm not making any promises, but right now, the setlist we have has about twenty to twenty-two songs in it. We'll have a great opening act in our friend Canon Blue, he's out of Nashville, on Rumraket Records. He's great. A great musician, great songwriter. We just decided, at this point, not to take out bands that we don't like, but will sell tickets.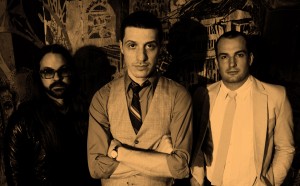 I'd just really rather not subject our fans to that anymore. Actually, we've done a pretty good job at taking out artists that I like. But we had a couple opportunities to tour with bands, and we're gonna go for quality. We do want to make this the most absurd show we can and I want everyone to feel like they got way more than their money's worth after the show, and I want to make it the best tour we've ever done. I'm certainly excited about this 3D video. We've got this really neat set behind us, and I think it's technology that's going to be pretty common in a year. I'm glad that we're doing it now…I feel like we're ahead of the game if we do this tour this way. If we did it next year, someone else will have done it before us.  I know [electronic musician] Amon Tobin has done crazy stuff with projecting on 3D structures…you see it a lot with electronic artists, but I don't know a band that's done it yet on a tour. So the goal, unless someone sneaks in there next week, we'll be the first band to take that kind of stuff on the road.
OS: You mentioned Canon Blue earlier…what can people seeing him for the first time expect from his performance?
DK: He's an electronic artist. He's opened for Miike Snow, I think that was a really good fit. So, stylistically, fans of Miike Snow will also enjoy Canon Blue. He's done a good job with mixing a lot of really beautiful elements with some intense, glitchy electronics, as well. I know he got the Amiina Quartet to play on his record, the same group that played for Sigur Rós. So he's got a lot of pretty strings on his record, and he's a good singer too…it's going to be my favorite tour, I'm pretty positive of it. Unless something goes wrong! [laughs]
OS: You guys are known for having a pretty wild live show. What inspires your stage presence? Do you tendto be more consistent with the performance aspect of the set, or more spontaneous?
DK: I'll only speak for myself, because I think the other guys would give you a different answer… but I'll tell you what makes me wild on stage. I'm a little hungry for attention, and you certainly get it whenever you perform. People clap for you after every single song. I can't think of anything else where I get that much attention. From the very first show we ever did, God, it got me really excited. I'm not an only child, but my brother and sister were both teenagers when I was born, and I was just alone a lot. I would spend hours in my bedroom playing drums, pretending there was an audience in front of me. Or I would put on my Paula Abdul record and dance as a background dancer and pretend there was an audience. I look back and realize that a very large portion of my time alone as a kid was pretending I was in front of a bunch of people.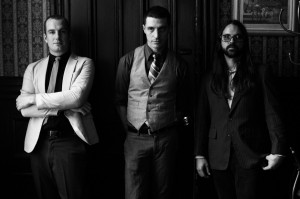 I'd even do speeches. I memorized the Gettysburg Address and I would do it in my bedroom for, I guess, a bunch of soldiers? I was raised in church, and Paul did this too, he'd preach, his family would make him preach for people…and I would preach to no one in my room. That was just my thing, I guess…pretending I had an audience. And when I finally got one, I think I got way too excited. I just get pumped up. It's exhilarating. And to be honest with you, I'm addicted to it. Sometimes I play hard because I love it. If I'm tired but I'm still playing hard, it's because I don't want it to end. I'm scared of the day when I don't have an audience in front of me. I don't like myself when I go too long without playing a show. I've gotten a little bit better about it, I think being married helps [laughs]. If one person approves of you after seeing you at your worst, then that does mean more than a bunch of people who think you're cool whenever you've got a bunch of smoke and mirrors. I used to go through intense withdrawal, really bad, whenever we didn't tour enough [laughs]. So yeah, it's kind of an addiction thing. I get excited about people, I'm like a dog! [laughs]
OS: Since we just started a new year, what's something you hope to accomplish this year that you haven't done yet?
DK: Like my resolutions? My New Year's resolutions are: to not sit down to pee, because I end up playing Words With Friends on my phone…just sitting on the toilet for too long. It's just such a waste of time. Being on the toilet for five minutes after you've gone to the bathroom is just dumb. I'm also going to stretch daily. As a band, we've already made a couple music videos, we want to make another one. We get to go to Australia and we want to make a good impression there. And I want to be a good son, a good sibling, a good husband, a good drummer. OK, here's the real one: to get into a creative habit with music. When we're control freaks like this and we're working on video and working on the tour so much, I'm starting to miss getting to make new songs. So just to do a little bit every day, with songwriting, so it doesn't take too long to come out with the next record.
This is definitely a show you don't want to miss! Catch MuteMath's Odd Soul Tour on these dates:
01/26 Houston, TX at House of Blues
01/27 Austin, TX at Stubb's
01/28 Dallas, TX at House of Blues
01/29 Tulsa, OK at Cain's Ballroom
01/31 Denver, CO at Gothic Theatre
02/02 Los Angeles, CA at Club Nokia Live
02/03 San Diego, CA at 4th and B Concert Theater
02/07 San Francisco, CA at The Regency Ballroom
02/08 Sacramento, CA at Ace of Spades
02/10 Seattle, WA at Showbox SoDo
02/11 Spokane, WA at Knitting Factory
02/12 Boise, ID at Knitting Factory
02/14 Salt Lake City, UT at Club Sound
02/16 Kansas City, MO at Beaumont Club
02/17 Chicago, IL at House of Blues
02/18 Minneapolis, MN at First Avenue
02/28 St. Louis, MO at The Pageant
03/01 Grand Rapids, MI at The Intersection
03/02 Detroit, MI at St. Andrew's Hall
03/03 Columbus, OH at Newport Music Hall
03/04 Cleveland, OH at House of Blues
03/07 Boston, MA at House of Blues
03/08 New York, NY at Best Buy Theater
03/09 Philadelphia, PA at Trocadero
03/10 Washington D.C. at 9:30 Club
03/11 Norfolk, VA at The Norva
03/14 Charlotte, NC at Amos' Southend
03/16 Ft. Lauderdale, FL at Revolution
03/17 Orlando, FL at House of Blues
03/18 Atlanta, GA at The Tabernacle