Riffs, Rants and Rumors: The dB's Amp It Up Again
It only took Francis Ford Coppola two years to follow The Godfather with Godfather II. Even less time separated Charles Dickens' last serialized installment of David Copperfield and his first for Bleak House. Sometimes artists are able to pick up where they left off pretty quickly, even if their previous project was one of the key works of their career. Other times, however, one has to wait a while for the follow-up to come around. The original lineup of The dB's definitely fall into the latter camp. It's taken thirty years for frontmen Chris Stamey and Peter Holsapple"along with bassist Gene Holder and drummer Will Rigby"to finally concoct a successor to Repercussion, their second record together, but now that Falling Off The Sky is set to arrive at last, the faithful are breathing heavy sighs of relief.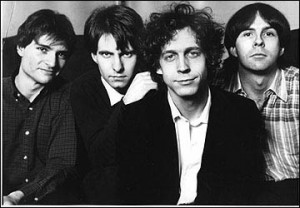 All four dB's were North Carolina boys who grew up playing together in various bands throughout the '70s before deciding to search for the brass ring in New York in 1978. Heavily influenced by Big Star"Stamey had briefly worked with that band's mastermind, Alex Chilton, and Holsapple had recorded with Big Star sideman Richard Rosebrough"The dB's already had a distinct power-pop orientation when they arrived on New York's nascent new wave scene. So were The dB's a new wave band? "I guess so, yeah," allows Holsapple in retrospect, "for lack of a better word. I mean, we'd been making records [in other incarnations] before there was a new wave, back when new wave was a French cinema term, so I guess we sort of fell into that. We certainly weren't new romantics. For years we sort of rejected the power-pop moniker, just because it seems very limiting, but realistically I guess you would have to say that's exactly what we were. At this point you can call it anything, I mainly just want people to enjoy it and hear it for what it is."
Though they did indeed become mainstays of the late-'70s/early-'80s Manhattan clubs where new wave was taking hold, the dB's wound up living in Hoboken for awhile, and becoming associated with a loose conglomeration of acts that were eventually saddled with the appellation "The Hoboken Sound." Prodded to muster an explanation of what bands like The dB's, The Cucumbers, The Bongos and The Feelies actually had in common, Holsapple suggests it was more about "what we didn't sound like, I guess" it wasn't heavy; it was all short songs with not a lot of instrumental breaks, things like that."
The dB's 1981 debut album, Stands For Decibels, shows a band steeped in both the angular, off-kilter qualities of the new wave world and the musically sophisticated, hook-filled, post-Beatles songcraft of power pop, in equal measure. One might even dare, in a fanciful moment, to call them the American equivalent to Squeeze. In Stamey and Holsapple they had two superb songsmiths, and Holder's mellifluous bass lines and Rigby's painterly drumming fleshed it all out in vivid colors. Nevertheless, the band had to go to England to find their first record deal. "We would look at Blondie having gone over to England," remembers Holsapple, "since we couldn't find a record label to put a record out for us in America, we ended up going over and putting our record out on Albion Records in England."
Both the debut and its equally impressive follow-up, 1982's Repercussion, were made for Albion. "The first record had been done in shifts," Holsapple explains, "whenever the money came in, basically. And the second record was all financed by Albion; we ended up at The Who's studio in Battersea. That's why that record ended up sounding more of a piece." But art and commerce are always uneasy bedfellows, and despite having turned out two of the most memorable albums of the era, The dB's didn't gain much commercial traction. Between disappointing sales and Stamey's increasing interest in other modes of musical expression, Holsapple sound found himself fronting the band alone, as Stamey set off on a solo path. The Stamey-less dB's made two excellent albums, Like This and The Sound of Music, before Holsapple finally got off the merry-go-round. "People were drunk and miserable," he recalls, "and it just all seemed like it was all kind of collapsing in on us. That would have been 1988. Everything had gotten to the point where it seemed really untenable, somehow, to continue on. I said 'Let us just cut our losses and stop now.'"
Holsapple became a gun for hire, touring and recording with both R.E.M. and Hootie & the Blowfish (Southerners all), and eventually joining roots-rockers The Continental Drifters, which also included his then-wife Susan Cowsill (of The Cowsills fame) and Vicki Peterson of The Bangles. Stamey indulged his studio-rat tendencies and became a prolific producer/engineer"his résumé includes work with Freedy Johnston, Matthew Sweet, Ryan Adams and many more"in addition to crafting his own albums. But The dB's front line couldn't keep apart for long" they had always remained good friends, and in 1992 Holsapple and Stamey reunited for the low-key duo album Mavericks. "It's always great to work with Chris," says Holsapple, "because Chris is sort of a mentor for me as well as a friend."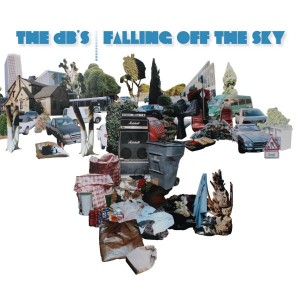 In 2005, Holsapple, who was living in New Orleans, was planning another duo album with Stamey, but Katrina put the kibosh on that for a while. Here & Now was eventually released in '09, but before 2005 was out, Holsapple and Stamey had decided to reunite with Rigby and Holder, playing some shows and starting work on new songs. "We had a few that seemed like natural candidates," says Holsapple. "We ended up recording about twenty-five songs for this record [before winnowing it down to the final dozen]. A couple of them have leaked out; we had a song called Picture Sleeve that we did for Record Store Day last year, and then we put up a song called Revolution of the Mind with a video last year in solidarity with Occupy Wall Street. But I think we ended up with the best songs for the record. It took a lot of hashing it out and going through different mixes to make sure it all fit together, but I think it does, really well."
From the garage-rock surge of Holsapple's "That Time Is Gone" to the metaphysical romance of Stamey's bouncy "Before We Were Born," the finished product, Falling Off The Sky [out 6/12 on Bar/None Records], is very much in the spirit of the early dB's records, but at the same time it bears a level of maturity that would have been impossible for a bunch of twentysomething upstarts in the early '80s. "There's a lot of recherché on this record," Holsapple reveals, "in that when you get to fifty-five, fifty-six, fifty-seven years old and you realize that you've been doing this for quite a while…you start looking at the people through your lives to try to see what they mean to you. Do they show up as spirits in your songs, or do they show up in your will or are they just people you curse every time you open a door?"
The dB's haven't lost any of their edge, though. "I'm still a smartass," Holsapple reassures us, "so there's some smart-ass lyricism in there, but there's some other stuff." And once the world gets wind of what The dB's are doing now, a whole new generation may end up enthralled with the singular sound that occurs only when the four lifelong friends from Winston-Salem convene.