Riffs, Rants and Rumors: Under the Covers With Counting Crows
Counting Crows are a bunch of geeks…but in a good way. Granted, they found a way to connect with the mainstream successfully enough to become a multi-platinum band, but it's always been pretty plain to see that they're the kind of guys who could easily come to blows over which was the greatest Smiths album ever. One of the most blatant tell-tale signs is their long-standing practice of inserting expertly chosen cover tunes into their concerts, interpreting songs by an eclectic array of artists, from "The Ghost in You" by the Psychedelic Furs to "Blues Run the Game" by little-known folk trailblazer Jackson C. Frank.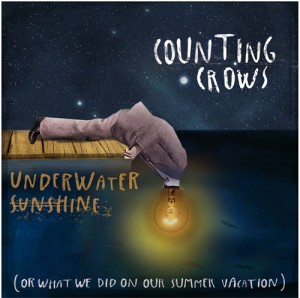 Counting Crows' new album, Underwater Sunshine (Or What We Did on Our Summer Vacation), is their first release since ending their long-term association with Geffen Records, so it shouldn't seem too surprising that their first order of business after stepping outside of major-label land is cutting a covers record. As expected, their choice of tunes to occupy the album reflects the continuing fandom they feel for music despite their rock-star status, so digging into the sources of the songs on Underwater Sunshine should not only allow us to delve deeper into the album, but ought to illuminate our impression of Counting Crows too.
1. "Untitled (Love Song)" (Romany Rye)
Romany Rye is a newish band named after a ninteenth century British novel, and their mix of moody folk-rock and twangy, country-kissed Americana makes the SoCal outfit seem a little like torch-carriers for Counting Crows' aesthetic flame. Leading off Underwater Sunshine with a song by an unknown band (one of several such examples here) is further evidence of the Crows' earnest passion for other artists' work.
2. "Start Again" (Teenage Fanclub)
Teenage Fanclub started serving up their Scottish slant on Big Star-influenced power pop in the early '90s, making their U.S. breakthrough around the time Counting Crows first came together. This song from TF's 1997 album, Songs for Northern Britain, bears the kind of open-hearted hooks and warm harmonies that also power the Crows' catchier tunes like "Accidentally In Love."
Another of the under-the-radar artists getting a bump up from their inclusion on Underwater Sunshine, Coby Brown is a west coast singer/songwriter whose intense lyrical bent seems right in line with Crows frontman Adam Duritz's sensibilities, especially when things turn toward the darker side on this tune.
Admittedly, Tender Mercies have a bit of an inside track, as two of the band's members"guitarist Dan Vickrey and drummer Jim Bogios"also happen to play in Counting Crows. But even if that wasn't true, it would still be easy to imagine Duritz and the rest of the band settling easily into this song's blend of introspection and dusty-desert Americana.
5. "Meet on the Ledge" (Fairport Convention)
In the '60s, Fairport Convention was to folk-rock in Britain what The Byrds (more on them later) were to that particular stylistic amalgam in America. While there's no substitute for the pipes of the late, great Sandy Denny or the six-string prestidigitation of Richard Thompson, the Crows cut their own path through this song from Fairport's second album quite handily.
6. "Like Teenage Gravity" (Kasey Anderson & The Honkies)
One of the acts participating in Counting Crows' Outlaw Road Show summer tour, Kasey Anderson and his band blend twang-filled alt-country with a serious singer/songwriter bearing that would seem to be right in Duritz and company's wheelhouse.
7. "Amie" (Pure Prairie League)
Probably the only song on Underwater Sunshine that was ever actually a hit (at least in America), "Amie" is the signature song of '70s country rockers Pure Prairie League, and was one of the brighter spots on the musical landscape of the era's AM radio playlists. It fits rather snugly into the Crows own organic Americana blend.
In the midst of all the Americana, Counting Crows left room for a bit of Britpop. Sure, Travis is another Scottish band, but there's no denying their place in the Britpop pantheon nevertheless. The sunny, lilting feel of this 2000 single might be a bit more perky than the mood most commonly associated with the Crows, but everybody should get a chance to lighten up once in a while.
This folk-tinged tune of wisdom and regret comes from the pens of the late Ronnie Lane and future Rolling Stone Ron Wood, and it hails from the band's swan song, released shortly before they finally parted ways with singer Rod Stewart. Still, a lot of Americans probably first heard it in the soundtrack to 1998's Rushmore, and if there are any Yanks out there who still need schooling, hopefully the Crows' cut will do the trick.
Dawes are among the current crop of L.A.-based bands pursuing a folk-rock feel that harks back to the California sound of the '60s and '70s, an aesthetic not at all foreign to a certain group whose name rhymes with Mounting Woes, so perhaps its no great shock that this song comes closest to sounding like it came straight from the pen of Adam Duritz.
11. "Return of the Grievous Angel" (Gram Parsons)
This tune by the patron saint of alt country is pretty much the genre's own "Star-Spangled Banner," especially when you add in the contributions of Gram Parsons' singing partner Emmylou Harris. Like the Crows, Parsons had a gift for making melancholy sentiments sound peculiarly perky, though this song is actually among his less morose offerings.
12. "Four White Stallions" (Tender Mercies)
Okay, we were willing to overlook the musical nepotism thing for the appearance of this album's first Tender Mercies' song, but the second tips the balance. Not that it isn't a worthy inclusion in and of itself, mind you…
13. "Jumping Jesus" (Sordid Humor)
Speaking of which, late-'80s band Sordid Humor was an antecedent of Counting Crows, as a number of the latter's founding members, including Duritz, worked with the group. Sordid Humor hasn't left a lot behind in the way of recorded output, but you can definitely hear an early step in the evolution of the Crows' style in this track.
14. "You Ain't Goin' Nowhere" (Bob Dylan)
Bob Dylan may be the author of this easygoing country-rock romp, but while it eventually appeared on his Basement Tapes album, most folks know it as the opening track from The Byrds' seminal '68 album Sweetheart of the Rodeo (which of course features the aforementioned Gram Parsons as well). This is the moment on Underwater Sunshine where the Crows sound like they're having the most fun.
15. "The Ballad of El Goodo" (Big Star)
Without the early-'70s efforts of power-pop pioneers Big Star, bands like Teenage Fanclub and legions of others might never have existed, while many others"Counting Crows probably included"would not have sounded quite the same. This song of perseverance in the face of tribulation offers an excellent, almost hymnal coda for Underwater Sunshine.