Exclusive Q and A: Vanna Talks Family, Friends, and Monsoons

It's time to get out of this town. It's haunting, this presence. If the verse lyrics from post-hardcore band Vanna's Safe To Say ever referred to their hometown of Boston, Mass., we'd never guess it now. After kicking off 2012 with tours through Europe and the U.S. from February to April, then almost immediately turning around and jumping on the Warped Tour, Vanna front man Davey Muise and guitarist Joel Pastuszak told us about how great it was to be home at the Warped Tour stop in Mansfield, Mass. Apart from touring, in the last six months Vanna have picked up new members Pastuszak and Erik Gross, and have begun working on a fourth LP after releasing their third full-length album, And They Came Baring Bones in 2011. Muise and Pastuszak talked to us about friends, family, and tour craziness over the last few months.
OS: You guys are playing back in your hometown, that's got to be great. What's it like to be back?
DM: It's awesome to be back, all of our families are here and you know, we're just looking forward to our New England date to prove to the rest of the tour that we are a ˜worth it' band [laughs].
OS: You haven't played with Four Year Strong in a long time, how does it feel to be touring with some hometown friends again?
DM: It's cool, it's cool ˜cause like Four Year [Strong], Transit, A Loss For Words, Man Overboard, Make Do, and Mend (even though they're kind of from Jersey), it's a lot of New England bands on this tour and it just feels really really good to tour with bands from New England; slash I apologize to everyone who's not from New England on this tour because we can get pretty rowdy and obnoxious. It's cool; it's definitely cool to have everybody out. Four Year's killing it, A Loss For Words is killing it, all the New England bands are doing so well, I'm just proud of my friends.
JP: We pretty much just took over the whole tour.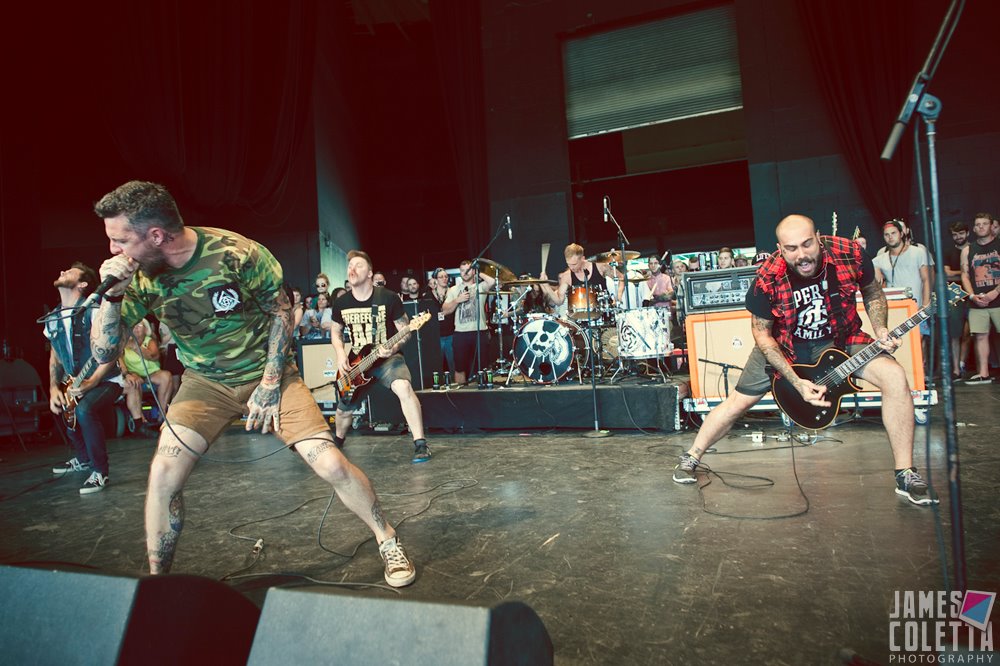 OS: There's been a lot going on for Vanna lately. After lineup changes and extensive touring for basically all of 2012 so far, how would you say the group has had to develop and adapt this year?
DM: I think with the addition of Joel [Pastuszak] and Erik [Gross] in our band, our band has literally gotten so much happier and more, I don't know, more on par and together with each other. You know, that's something I think we were lacking before and missing and now that we have all the elements there that it's perfect. I mean like we all hang out together outside of shows and outside of touring. It's nice, the chemistry's there, you know what I mean? It's nice to be stuck inside of a van with people that you don't mind being stuck inside of a van with. It's really important because that's something that could ruin bands, the chemistry not being right. So touring's been great, we've been on the road the entire year. We've been on the road since, dammit, I don't even know"forever¦ So it's cool, two new members are great, I don't even consider them new. It's just the band, man, we're just continuing and doing great. We're looking forward to hitting the studio and doing some writing.
OS: That leads me into my next question: has there been any work on a new album?
DM: Yeah, we got Mr. Fuckin' Wizard [Joel] over here [who] has a portable studio, so we've been writing for a while. We wrote on the last tour and we're writing on this tour. We just recorded two covers that we did videos for and audio tracks for and they're gonna be out pretty soon. And then we'll hit the studio December-January time. I'm just really looking forward to it. We're gonna go away and write as a band, we're gonna take some time off and write together, lock ourselves in a cabin and write some stuff. So yeah, we're looking forward to it, man, we're looking forward to seeing what Joel and Eric bring to the table.
OS: Bassist Shawn Marquis' brother, Greg from Actor|Observer, is playing the stop with you guys today; you've all been close over the years. What's that like?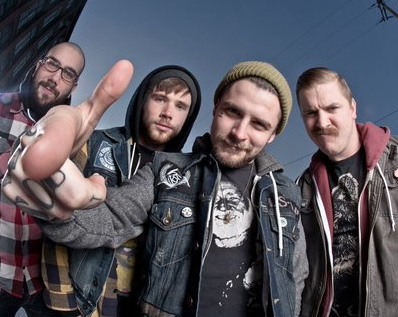 DM: Greg's awesome, man. Brian, Shawn's older brother, is running the acoustic basement tent [at Warped Tour] and he's playing every day, and Greg's doing Actor|Observer today and he's also playing acoustic for like three days, and he's gonna be on our bus with us, so it's great. Greg's like my little brother and like, I've known those guys for so long that, you know, Greg's just part of the family and it's cool. I cannot wait to see them play. They're a great band; Greg's really talented. Each member of the Marquis family has never ridden anyone else's coattails, Brian was in Therefore I Am, and Shawn in Vanna, and Greg in Actor|Observer, and they all work really hard. They're just workhorses, that family. Looking forward to seeing what Greg has got. We're gonna make him finish college, though. I promised his mother ˜cause Shawn dropped out with one year left of art school, Brian dropped out with one year left at Berkley, and Greg's at Northeastern and he's got like two years left and we are not letting him quit school [laughs]. Someone in that family is getting a degree. After that he can go on tour. He's crazy, those Marquis' are out of their minds.
OS: You guys are sort of veterans on the tour now; do you feel like a lot of other bands look up to you? Has that extra experience in the past made for a different experience on the tour this year?
DM: Yeah, I feel like we're one of the bands that a lot of the other bands are friends with, and want to hang out with. We've just got a bunch of real dudes in our band, you know what I mean? We've been doing it for so long, we're still fairly a new band as far as I guess the "scene" goes, 'cause we signed with a new label and they got us out there to more people.
JP: A lot of people haven't even heard of us. They heard us for the first time when our last album came out.
DM: Yeah, which is fine with us man, we're totally content with people hearing this last record and being like This is the first record you ever did, right? and we're like sure, whatever. As long as you're here, that's all that we care about. But yeah, I think it's cool that a lot of bands respect us, even bands that we really look up to on this tour just right away have been really cool to us and just really respectful to us. And you know, that means a lot.
JP: We're really proud to be a band that is not only a fan's band, like our fans, we're really proud of our fan base, we're really proud of the way other bands view us and respect us for what we do and our philosophy on everything, how we approach everything.
OS: What are some of your favorite bands on the tour this year that a lot of people might not know about?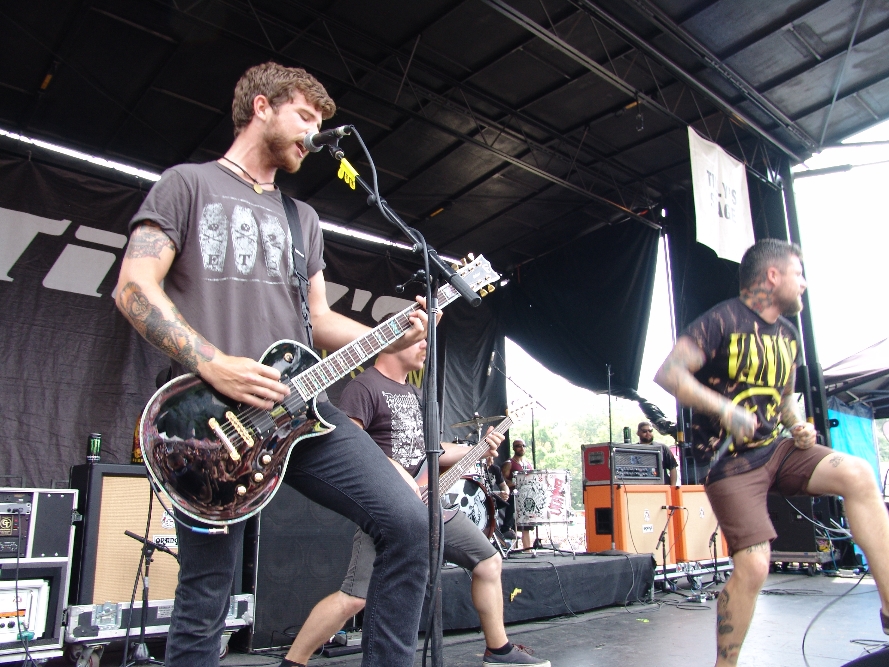 DM: Our stage rules, dude.
JP: We're stoked to be on our stage with a lot of our friends. We're meeting and hanging out and now becoming friends with like, Senses Fail, who, you know, back in high school I used to cover their songs. It's been kind of surreal meeting a lot of your favorite bands and also they're your stage mates. You see them every morning and you hang out, and you're borrowing gear. You're like, ˜oh wait, I remember five years ago I used to listen to their music on my way to school on the bus and now he's playing my guitar rig right now.'
DM: Bayside kills it on our stage every day too, I've been watching Transit too, like every day, I love those boys. Every Time I Die literally plays the best set of Warped Tour every single day. That band is insane, It doesn't matter who they play against, doesn't matter what time, that band is insane. That's a band that we've become really good friends with and watch every day. Those guys rule.
OS: Other than your hometown, what's been your favorite stop on the tour so far?
JP: Canada killed it, despite a monsoon.
DM: Toronto had a straight up hurricane-style rainstorm, and then it cleared out. It took about an hour out of the day and everyone came back and it was like 3000 kids watching us. It was insane. Toronto was cool, Chicago was incredible, Kansas City was crazy.
JP: Ventura was awesome. That was like right at the beginning of the tour so we got stoked, like they killed it and we were like, ˜if this is the rest of our summer, we can die happy'. There was a guy crowd surfing in his wheelchair, literally right from the get-go. We really haven't had any bad days.
DM: We've never had a day where we're like, ˜well, that was fuckin' awful.' We've had a couple days like, yesterday was a rainstorm again, and the rain kind of screwed us on that one, but it was ok. The kids were stoked. The kids no matter what, the kids that are there to see your band are amped. And there's so many kids at Warped Tour, it's nearly impossible to play to nobody. It's next to impossible. So there's been some really highlight towns for us on this tour that have been crazy.
OS: If you could make your own ˜Warped Tour Superstars' lineup, what bands would you want to see?
DM: Deftones, Thrice.
JP: Keep Bayside, they're fun… Pretty much all of our friends on our stage and then just a few more bands that don't happen to be on Warped.
DM: And if we're dreaming, then Nirvana, Mastadon would be cool. Yeah, if I could make my own personal tour every morning, I think all those bands would definitely make it. Glassjaw.
JP: Alexisonfire, just all the bands we grew up respecting and learning from.
DM: Which is funny ˜cause almost every band we just mentioned has done Warped Tour before. They've all done it. Warped is cool man. It's definitely a cool tour.
Listen to "I, The Remover", one of the singles off  And They Came Baring Bones, below.
More like this: