Riffs, Rants & Rumors: Murder By Death's Dark Dreams

We've always been outsiders, it seems, says Adam Turla, frontman for Bloomington, Ind. band Murder By Death. Though he's talking specifically about the band's history with record labels, the idea could easily be expanded to encompass Murder By Death's career as a whole. After all, a band that comes off like a blend of Nick Cave, The Pogues, and the evil siblings of The Decemberists isn't the sort that's easily pigeonholed. But judging by the Bloomingtonians' sixth album, Bitter Drink, Bitter Moon, that's a quality that has served them well.
Though MBD's latest outing finds them on esteemed, alt country-oriented Bloodshot Records, their last two albums found a home on Vagrant Records, a label initially best known as an emo stronghold. We never really fit in, says Turla. Whatever label we sign to, there's people who are like, ˜Huh, that's weird.' Vagrant was excited about working with us, and we'd seen that they'd had some successes with bands like Hold Steady and Lemonheads when we signed with them. We thought, ˜Okay, that could work.'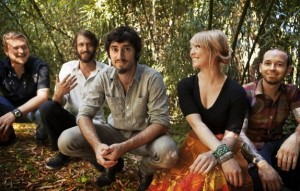 As it turns out, being on high-profile Vagrant and working with big-time producer Trina Shoemaker (Queens of the Stone Age, Sheryl Crow) didn't exactly make Murder By Death a household name, but the way things have worked out, that might be for the best. They're not the kind of band made for mass consumption anyway. Right off the bat, they feature a cellist (Sarah Balliet) as a core element of their sound, which isn't the sort of thing that screams mainstream.
She's been there the whole time as one of the main writers, says Turla of Balliet, and the sound of the group developed with that in mind. Instead of having a lead guitar, we have a lead cello. But it is hard to put it in a rock context. When I go back and listen to our earlier material, there's songs it really shines on where we figured out exactly what to do with it, and there's songs that I feel like we weren't quite comfortable with how to put it in yet, so it's definitely been a learning experience.
Murder By Death"named after a Neil Simon-penned murder mystery spoof"came together in 2000 in Bloomington, where the members had all gone to college. We started this group just as something fun to do, recalls Turla, and eventually people started inviting us to play out of town or put out a record, and we just sort of went with it. But for all the bands plying their trade in and around Bloomington, Turla says, There's not really much of a scene, actually. There's never really been a sense of unity that you see in a lot of other Midwest college towns. I've lived there for 13 years and I just don't see a lot of connection between the groups. Most bands don't leave town. I'm surprised, considering that the [Bloomington-based] Secretly Canadian/Jagjaguwar label lately has had a lot of notoriety, it hasn't really turned into what happened in Lawrence, Kan."they had a bunch of bands coming out at the same time that turned into a kind of scene. That being said, recently we've had a couple of great local folks really busting their butts to get more out-of-town bands playing. I'm hoping that will get more local acts shooting for the next level.
In a perfect world, Bloomington would gain a bit more notoriety on a national level once the wider world gets an earful of Bitter Drink, Bitter Moon. It's a stormy swirl of disparate influences, from folk to punk and beyond, with Turla's deep, lachrymose tones and spooky, storytelling lyrical style leading the charge. In fact, the tales he tells in MBD's songs are so vivid the band's most obsessive fans can't resist elaborating on them. I get a lot of sort of fan fiction stuff from people, Turla reveals. I've gotten probably hundreds of movie scripts, poems, and short stories¦paintings, drawings, we get a lot of fan art centered around the songs.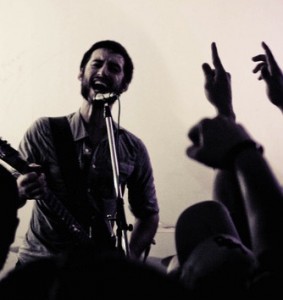 The new album's first single, I Came Around, is a perfect example of Turla's gift for spinning moody yarns. That song is about going to the wake of someone you didn't like, he explains. The character in the song goes to the wake and meets all these people who saw the person who died for [what he was], but they saw the good things about them as well as the bad. I wanted to write a song about being wrong, because in pop music all the time the songs are about, like, ˜I'm awesome. You broke my heart, but fuck it, I'm strong.' They're all sort of ballsy self-celebrations, and I wanted to do a song that was just like, ˜I'm wrong, and it's too late.' I loved the idea of having a song like, ˜I came around, but it's too late.' I like having songs where the narrator makes a discovery in the song"that's way more fun to listen to.
Close listeners to the track may also pick up on one of Murder By Death's key influences: The Pogues. I love them, enthuses Turla, probably my favorite band over a long period of time. I started listening to them when I was in sixth grade, because a friend's big sister used to drive us around and she always had that tape. We got to open up their first show in the U.S. back in 2006, and that was the coolest thing we've gotten to do. ˜I Came Around' is definitely like a Midwest homage to those guys.
But as the instrumental Queen Mab proves, sometimes the band doesn't even need words to create an evocative mood. It was [based around] a piano part that Scott [Brackett] came up with, explains Turla. We originally had a longer song"it was super-elaborate"that we decided to cut down to that. They just sat down in the studio, Sarah on the cello playing pizzicato and Scott on piano, messing around with it, and we just did two takes and picked one of them. We liked the idea of it being a sort of interlude in the album"it had a kind of weird fairyland quality to it. Queen Mab is, if I recall correctly, the queen of the fairies from Shakespeare [first mentioned in Romeo & Juliet].
Though Murder By Death already had five albums and a string of EPs to their credit before embarking on Bitter Drink, Bitter Moon, this one seems designed to stand apart from the rest. It's not as straightforward, muses Turla. Like, we have a record called Red of Tooth and Claw that came out in 2008 that just bangs it out start to finish"very upbeat, very aggressive without being heavy. And then we have albums that are more all over the place. This one, it's three things: it's brooding for a third of the songs, it's aggressive for a third of the songs, and then it's dialed in somewhere in the middle for the other third. And amid all the brooding and aggression is an emotionally unguarded, organic-sounding band with some dark but stirring stories to tell.