Metal Monday: The Melvins Lite Experience

Just about thirty years into their career, Melvins are still going strong. Perhaps even stronger than ever with the in 51 States in 51 Dates tour. As explained to me by the band, that's 19 more consecutive shows than their current record of 32. The Melvins Lite experience, as it were, happened to be an incredibly good one"even from the moment I got in line. Outside the venue I had an extensive conversation with a guy who was planning on seeing a vast majority of their northeastern U.S. dates (12 in all) as well as a nice gentleman who came all the way from Israel to see the Melvins, in addition to Big Business and a few other shows, a fitting audience for a band that doesn't do "typical" very well at all. For those unaware, Melvins Lite consists of regular Melvins members Buzz Osbourne and Dale Crover joined by bassist Trevor Dunn, without other regular Melvins members Jared Warren and Coady Willis.
Fifty-one consecutive shows in as many states is sort of a crazy notion. By most measures, this would be considered the record"even if the Guinness World Records folks don't ultimately decide that the feat is worthy. The current record is held by George Thorogood for touring 51 states in 50 days back in 1980 (this includes Washington, D.C. as a separate state)"or so they say. The Melvins' camp doesn't so much believe that, though, and it's not in the record books.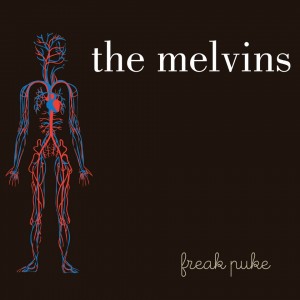 But Melvins' don't care. "We'd do it anyway" explained Buzz on whether they cared if they were the record or made it into the Guinness Book Of World Records or not. The decision to go for the record was Buzz's idea from the start. "Our booking agent wanted to slit his wrists when we told him," recounts Buzz, with his band mates reassuring. Thinking this tour would be hard on the booking agent is on point, but it's not just hard to schedule the logistics. "It's the hardest tour you could possibly do. If anyone tells you they can do it they're fucking lying." says Buzz about just how much tougher 51 many consecutive dates in 51 states is than anything else they've done in their careers.
So far so good for the band, who were just past the halfway mark of the tour when they hit Boston to play the Paradise Rock Club. No one's died on tour yet, or even really come that close"despite flying into Anchorage, Alaska amidst 75+ mile per hour winds. Beyond the 51 dates, the band has nothing official on tap, though they did allude to having some very cool things in the works (nothing as intense as this tour, however).
Opening for Melvins Lite was a band called Tweak Bird, two dudes who rock really hard and really loud. Having never listened to them before the show I was unsure of what to expect from the opener but was pleasantly surprised with just how great they were. During part of the band's set, Melvins drummer Dale Crover  joined the duo to play and sing along with one of their tracks, which came as a complete surprise.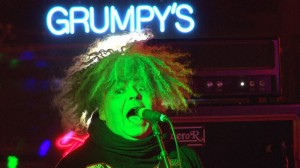 Eventually, Melvins entered the stage and proceeded to lay down awesome performance after awesome performance while plowing through old and new Melvins Lite material plus a few regular Melvins songs. In terms of live sound and feel, Melvins Lite is actually pretty different from a more standard Melvins show. In terms of material, not much regular Melvins stuff gets played, but the songs that do come across differently. Way more dynamics as a trio, a lot more low end in the mix.
All in all, it was a fantastic experience, even if it's not the same as a regular Melvins show. Catch them on tour as soon as you can, or you'll be sorry you missed out.
Melvins's latest album, Freak Puke, came out June 5 on Ipecac Records"pick it up!