Riffs, Rants & Rumors: Justin Rice Jumps Between Bishop Allen and The Last Names

First you hear the hazy, languid tones of a young woman whose voice falls somewhere in the ethereal zone between Mazzy Star's Hope Sandoval and Cat Power. At times, a male vocal partner's warm pipes waft into the mix. Soon you're sucked into a mood that's somewhere between the last, evanescent rays of summer sunshine softly receding from view and an evocative, autumnal flickering of gossamer guitars and diaphanous keyboard lines. You're listening to Wilderness, the debut album by The Last Names, a married couple who became a band by accident.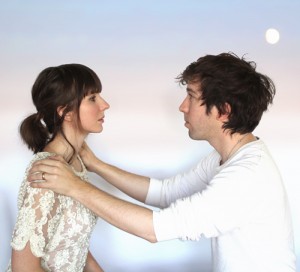 Fronting indie-rock outfit Bishop Allen is the day job of Justin Rice, who started the project with his wife, Darbie Nowatka. It all began when the couple moved house from Brooklyn to their current place in upstate New York, where a slower pace and a more natural environment influenced the tunes Rice was putting together. The Catskills and the Hudson River are both these magnificent feats of nature that kind of overpower all the surrounding towns, explains Rice. The songs that I was writing"and Darbie, my wife was helping me"they ended up being really different than anything we'd ever done in Bishop Allen¦we ended up with a new band and a new record.
Rice also has a sideline as an actor, having appeared in several indie films, including a starring role in Andrew Bujalski's 2005 movie, Mutual Appreciation. I really like acting, he allows, but I spend most of my time working on music, and it's hard to really pursue acting and really pursue music at the same time. I've never auditioned for anything. I like doing it when I can do it, but the thought of actually getting it together and pursuing it, I don't know that I have that in me. Nevertheless, he feels his film work has informed his approach to playing music. A lot of the time when you're playing music, and especially when you're singing, it really helps to picture who you are and what you're feeling, and who you're singing to¦to picture what it was that brought you to write that song. I think that's what actors do"they take lines and try to give them spontaneity in the moment. I think there's a balance between preparation and spontaneity that makes for good acting, and I never thought about singing in that way, but after acting, it sort of influenced the way I do things.
The film world has had a big effect on the career of Rice's other band, Bishop Allen, in which Nowatka also performs. A big part of Bishop Allen's visibility comes from getting their songs into films like Nick & Norah's Infinite Playlist, as well as TV shows and commercials. It's a tough world out there to try to survive making music, says Rice. Obviously those kinds of things are great because you get paid to have your song be in a commercial or a movie. And I just feel like it's sort of a necessary thing"if it's a horrible commercial or a terrible product we'll say no, but most of the time it's something that's alright. I don't take anything that I do that seriously"I care about it immensely, and I work on it constantly, and I think about it a lot, but ultimately I don't feel like a song gets ruined by appearing somewhere. Songs have legs and integrity and bone structure, and that's what makes a song great.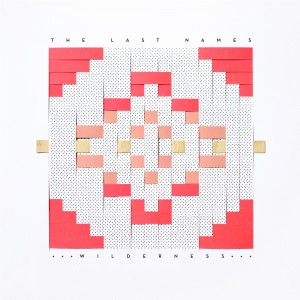 But the inspiration behind The Last Names lies much closer to home. If not for his marriage to Nowatka, Rice says the project definitely wouldn't exist at all. The way that this band started was that she was helping me with music¦because we live together and she was here. She's oftentimes the first person I ask if something's working or if it's not. It was almost inadvertent; I was working on songs and she gave a lot of feedback that helped shape them, and it became clear that she wasn't just an advisor"she was a real collaborator. She thought she didn't know anything about recording¦she can perform, but she'd never gotten into writing or recording. Working on that stuff it surprised both of us how much she actually knew and how much instinct she had for what makes a song work or what makes a recording work. And while Rice is the main voice in Bishop Allen, Nowatka's shift to center stage brought about a fresh feeling. It was really nice to write for her voice, says Rice. I got really into that, and that helped define the sound"I like singers who have a quiet, ambient, expressive voice, but not in the traditional belter kind of way.
After moving upstate, Rice and Nowatka started raiding garage sales for old LPs, and soon stumbled across classics by the likes of bossa nova siren Astrud Gilberto and the ˜60s duo Nancy Sinatra & Lee Hazlewood. That was a big part or what helped shape the sound, says Rice. In fact, the two-part title track on The Last Names' album was directly inspired by the latter. We'd been listening to Nancy & Lee records that morning, recalls Rice. Those two songs ['Wilderness' I and II] started out as one song and we pulled them apart to make two, and they were definitely inspired by songs like [Sinatra/Hazlewood's 1967 hit] 'Some Velvet Morning.' There's tons of Nancy & Lee duets that, for this record, were kind of touchstones.
The Last Names put plenty of other musical touchstones into play when they started their ambitious 52 Covers project, which found them posting a new cover tune online every week throughout 2012. It turned out 52 is a much larger number than I initially thought, Rice admits two-thirds of the way through the endeavor. I really thought we'd get ahead"we're still making them every week and we haven't gotten ahead at all. It means the cover we put out every week is what we worked on that week. There's an immediacy to it that's nice, but damn, it's relentless. The first one we put out on New Year's Day" The More I See You. We thought it was a song by Chris Montez, because that's the version we knew. Chris Montez was an early-˜60s pop singer¦then he kind of went more like lounge, but he doesn't really have the voice for it, and The More I See You is one of those songs where the charm of his voice makes it likeable. It's a really good song. Since then, the duo has covered an impressively diverse array of songs, from The Cure's Lovesong to The Pogues' Rainy Night in Soho.
One of the most intriguing aspects of Wilderness is the way The Last Names contrast the often dark sentiments of their lyrics with a warm, welcoming musical framework. [Putting] those kinds of sentiments over something dreamlike makes an intuitive sense to me, explains Rice. The darkest thoughts we have, oftentimes, are like dream thoughts. The things that we're interested in are these moments of decay and loss and longing"those aren't necessarily bad things. Things falling apart and being lost¦that melancholy feeling is something that's really human. The bad feelings and darkness, the regret and the loss is what motivates you and keeps you going, and helps you keep connected to the world and keep things in perspective.
But if you're wondering about the origin of the duo's name, the moniker emerged from a far less philosophical perspective. We were sitting around trying to think of a band name, remembers Rice, and it was like, ˜Man, so many names are taken"we're down to the last names.'