Riffs, Rants & Rumors: Elliott Murphy, Last of the Rock Stars
What do Jane Fonda, Johnny Depp, Gianni Versace, and Elliott Murphy have in common? They're all among the recipients of France's Médaille de Vermeil de la Ville de Paris, a high cultural honor that's presented by the mayor of Paris himself. The most recent singer to be awarded the medal was French chanson legend Juliette Greco, but on October 1, New York-born singer/songwriter Murphy became the first American musician to be so honored, in a ceremony overseen by the Mayor of Paris, Bertrand Delanoí«.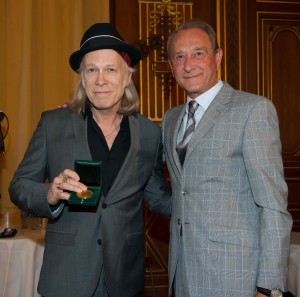 Expatriate Murphy began his career in 1970s New York City, but for the last two decades he's made his home in Paris. I've been here for 22 years and I didn't even know the French noticed me, laughs the 63-year-old songsmith, and then this came up. It was a total surprise. Ironically, Murphy's 1973 debut album, Aquashow, had its beginnings in Europe, when the Garden City, Long Island lad journeyed there in 1971. Before that time I was pretty much a run-of-the-mill Long Island almost-heavy metal guitar player, he confesses. I had written a few songs with names like Die, Baby, I wasn't really into lyrics so much. This trip I took to Europe in 1971, it changed my life. I started playing on the streets and writing a lot of songs. My creative juices just started flowing over here. Many of the songs on Aquashow were begun on that trip" ˜Last of the Rock Stars,' ˜How's The Family,' even [suburban America satire] ˜White Middle Class Blues.' I think taking myself out of my environment made it easier to look at, and it became obvious to me that I needed to write about that. And then I came back to New York and that deal with Polydor Records happened very quickly, in a way which would never happen today. We went unannounced to a record company and asked if someone could listen to our demo, and they did. The next day, the band played live for the A&R guy, and the next day we were signed.
With little ado, Murphy quickly commenced to make one of the most striking albums of the era, a blend of vivid, post-Dylan lyricism and rock & roll street savvy. I was never really a folkie, explains Murphy. I came to writers like Tim Hardin or Fred Neil from a rock & roll background. I mean, my first hero was Dion. But I think probably the most influential on that album were Bob Dylan and Lou Reed, and probably a little Paul Simon and Leonard Cohen thrown in there.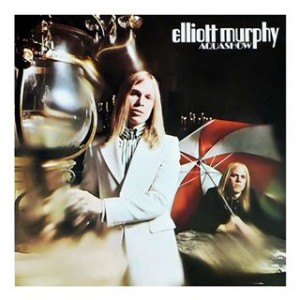 Produced by Peter K. Siegel, Aquashow is essentially the story of a restless young suburbanite being unleashed in the big city, breathless with excitement at the possibilities before him. It's the sound of a young man finding his footing in the world for the first time and telling us about everything he encounters along the way. The songs usually begin someplace in reality, Murphy allows, but then they take off"they do have a life of their own. The songs seem to know more about me than I know about the songs. Of the album's heart-grabbing ballad How's the Family, he says, All the characters in that song are not characters in my family, but the emotional landscape was definitely coming from my family. My father passed away when I was 16, and that was a devastating effect on the whole family, and kind of blew everything to smithereens. It was probably coming from that place of pain, I would imagine. I became Elliott Murphy"up until then I was a Junior, I had the same name as my father, Elliott James Murphy, when I was a kid they called me Jimmy. Once he passed away I became Elliott and I kind of took on that identity, and my father was in show business, so in a way it was the family enterprise. Even the title of Murphy's debut album can be traced to his father. He was a producer of a thing called the Aquashow, which was in Queens where the World's Fair was, and he had orchestras like Duke Ellington there, and comedians"I was very impressionable when I went there as a kid.
Unfortunately, Aquashow suffered something of a backlash precisely because it was so well rendered. My album was overhyped by the rock critics, Murphy recalls, there was no big ad campaign, it really came from the rock critics, who at that time were just coming into their own. And once Paul Nelson wrote that Rolling Stone review, ˜He's the best Dylan since 1968,' well then it just spread like wildfire, and people like Bob Hilburn at the L.A. Times and Dave Marsh at Creem, they were being taken very seriously. And then of course, when you have all these critics telling people how wonderful you are, there's bound to be a backlash too: ˜Oh yeah? Show me!' And I suffered a bit of that as well.
The lack of an easy pigeonhole for Murphy's sui generis style didn't help matters either. That was both a plus and a minus, he says in hindsight. When the record was released, it didn't really fit into an easy format in terms of radio airplay. It wasn't a folk record, it wasn't Aerosmith, Bruce Springsteen had his second record around that time, but it [The Wild, The Innocent & the E Street Shuffle] was a lot more jazzy and R&B-influenced. I think the fact that it's a very difficult record to classify has helped its longevity, but probably hurt its original response.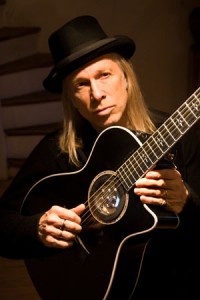 Mid-˜70s New York was also a bit of a no man's land for singer/songwriters, other than a few tough-minded types like Murphy and Springsteen who wanted no part of the ˜70s mellow mafia. In retrospect it seems like Murphy, Springsteen, and maybe Garland Jeffreys were a sort of movement unto themselves. Billy Joel I would have to maybe throw in there too, adds Murphy, but he was coming from a certain pop element much more than us. There was a genre for singer/songwriters, but they were pretty countrified, [like] James Taylor or John Prine"and we were urban singer/songwriters. There are plenty of urban singer/songwriters, but they're mostly part of a band. Also, in New York City at this time there were a lot of places to play, and it was wide open like I don't think it's ever been since or before. I used to play at the Mercer Arts Center, The New York Dolls played there, and Kiss played there, and Patti Smith played there. But you're absolutely right. By 1977 it was kind of dual death blows of punk and disco [laughs]. I'd say it was the death of singer/songwriters.
Murphy's second and third albums, Lost Generation and Night Lights"recently reissued digitally at last"echoed the unremarkable sales figures of his debut, and after 1977's Just A Story From America, he was exiled from major label land. By 1978, I suppose, I had been driven up to the top of the rock & roll mountain and kicked down the other side, he recalls. I'd been on three labels, these four albums that continued to get incredible reviews and not bad airplay, but didn't sell through to the point that the labels were looking for, and finally I was dropped from Columbia. I was like, 'If they can't do it, well then no one can.'" Fortunately, a phone call from Europe soon helped turn the page towards Murphy's next chapter. I got a call out of nowhere from a place in Paris that wanted me to come and play. I thought it was gonna be a little club with 200 seats. It was like a 1,000-seater and it was sold out. My albums had been successful over here"I never knew that. I'd even had kind of hits, there was a song called ˜Anastasia' that had been a big hit here, I didn't know.
Among other things, the European dates Murphy began playing gave him a new perspective on the music business. It didn't take long to realize that people were releasing albums in a different way; they were licensing them"different labels in different countries, this was a way you could do business. You could actually produce the albums yourself if you could get the funds to do it, and then license them. I started to do this as a method of survival. It was the only way I could think to keep putting out albums, because the majors were not interested in me in America at that time.
Eventually, Murphy's overseas jaunts would inspire a more drastic realignment in his life. By 10 years later I was really touring exclusively all over Europe, and sometimes Japan. I was breaking up a marriage, and the thought of finding another place in New York just depressed me, and someone knew a place in Paris. So by 1989 I moved here, re-met my current wife, Franí§oise, and we had a son, Gaspard. I've lived here now for longer than I've lived anywhere else.
Since his move to Paris, Murphy has released 15 albums, not to mention two novels and three short-story collections. He remains a constant presence on the continent, touring with his band The Normandy All-Stars, and this December he'll be making a run through the U.S. as well. Reflecting on the effects of his recent Parisian honor, Murphy muses, The biggest effect is really what it's had on me personally. It came out of the blue and it really made me feel a[s] one with this city, standing up there with the mayor of Paris in this incredible, beautiful ballroom where it was done. Just the way he described me and my career"it almost gave me more of an understanding of who I am than I had before. I've had a great career, I really don't complain. Longevity can be the hardest part of this business. It still can get pretty rough out there for me with the travel"gigs aren't always the way I want them to be and it's tough sometimes, but this award kind of encapsulated it all, like ˜Okay, this is where you're going, and this is where you should be.'