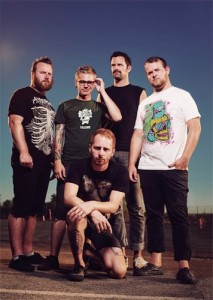 Two years after their departure, Boston post-hardcore band Therefore I Am have decided to reunite for the last night on Earth. On December 21st, the five former members will perform an extra long set of old material at a brand new Boston venue called The Sinclair in Harvard Square. Opening for them are their good friends and family members Actor|Observer, alt-rock band Foreign Tongues, and long time friends Fairweather, for whom this will also be a reunion. Tickets and further details are to be announced through Therefore I Am's former label, Equal Vision Records.
Since their break up in 2010, all of the members have moved on to other projects. Guitarist Brian Marquis is pursuing a solo career and is the manager of the Vans Warped Tour Acoustic Basement. Singer Alex Correia plays in a folk-rock band called The Tower And The Fool. Guitarist Travis Alexander and drummer Chris Fernandes started a post-hardcore band called Ghost Thrower, and bassist Jim Creighton plays in an alt-rock band called Born Without Bones. So don't miss out on this show, TIA fans, because it doesn't look like these guys will be getting back together any time soon… plus, it's the end of the world…
If you like Therefore I Am, you might also like OurStage's own Follow Your Hero.
More Like This: