Eclectic Approach Behind The Scenes at Jimmy Kimmel Live! (Video)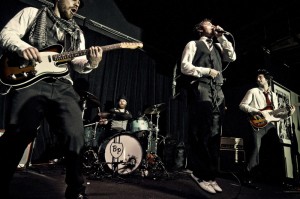 Remember how OurStage took one talented band's dream of dominating the national stage, rocking out in front of a huge live audience, and making their way into the hearts and homes of millions, and turned it into a reality?
So do we.
On October 1, 2012, OurStage gave the opportunity of a lifetime to electro-funk rockers Eclectic Approach, as we sent them off to Hollywood to perform on Jimmy Kimmel Live! for a broadcast audience of almost 2 million viewers.
Eclectic Approach has been on an upward trajectory at breakneck speeds since winning Season 2 of The OurStage Panel earlier this year. Check out the band's inspirational journey and performance on Kimmel's hit late-night talk show, RIGHT HERE.