Album Review: Kaki King – "Glow"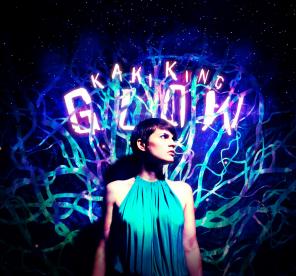 For fans of Kaki King, if you are like me, then you probably miss hearing her lyric-less ambient acoustic guitar playing. Understandably so, since this is originally how the songwriter-singer"because her vocals really are secondary to her songwriting"got her start and why so many people were drawn to her in the first place. Over the years, she has gradually incorporated a few more instruments and some soft singing into her music here and there, which was actually quite a nice for a change. But on her last album, Junior, King almost left the whole solo instrumental guitarist act behind, introducing a full rock band sound and an unmistakably Tegan And Sara influenced full singing voice. Many fans, while welcoming the new style, still felt a bit like something was missing. If you are one of those fans, then slip on your mittens, warm woolen hat, and scarf because the original Kaki King we know and love is back with an autumnal instrumental album called Glow.
Of course, after years of hearing King's soft and delicate voice on her albums, there are those who may be disappointed by the lack of vocals, especially for newer fans who only know her as a singer-songwriter. But regardless, this album is a stand-alone contemplative soother that keeps you captivated the way that King knows best. Overall, it seems to have a "world music" vibe, with combinations of unique string instruments and diverse rhythmic and chordal structures that conjure up feelings from specific cultures around the world. The first track, "Great Round Burn," sets this tone immediately with a mandoline-esque method of guitar strumming and a lavish Middle-Eastern-sounding symphonic arrangement performed by the ETHEL string quartet. Moving on to "Streetlight in the Egg," King throws back to her early days of percussive guitar-playing, with a constant pounding on the acoustic body that makes it impossible not to tap your foot or nod along. She keeps the ambiance alive with a Western-style electric guitar tremolo and hints of reverb and delay. This song is directly reminiscent of "Ingots" from her second album Legs To Make Us Longer, in which she utilizes the same steady pounding on the guitar as a the rhythmic foundation.
"Bowen Island" is a particularly interesting track as King introduces her newest guitar modification. Similar to her personally handmade lap-steel used on … Until We Felt Red, this unique instrument is also played on her lap. The minor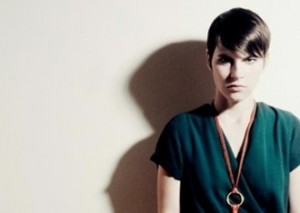 modification is a small piece of wood with a notch inserted under the 16th fret so that the strings on both sides of the fret are a perfect fifth, producing a timbre similar to that of a Japanese guzheng. The result is an entrancing and emotive piece that flourishes with the help of a cavernous reverb. King then seems to return back to the West with "Cargo Cult," which incorporates a background of falling rain and eventually picks up with a galloping electric guitar, shakers, and snare rim shots, encapsulating a sort of "traversing" effect. (Check out Kaki King's video for "Cargo Cult" here.) The sparse percussion continues on "Kevinator, Kelvinator," again accompanied by ETHEL with subtle eerie swells interlaced throughout the background. Their modest presence continues into the fall-like "Fences."
In the gentle and poignant composition "No True Masterpiece Will Ever Be Complete," the guitar goddess demonstrates her more classical style of finger picking. This carries over into "Holding The Severed Self," in which she brings back her signature guitar-thumping, finger tapping, and tasteful use of harmonics similar to the song she played in a recent GAP commercial. "Skimming The Fractured Surface" seems to tie off these three ballad-esque tracks as one complete thought, like movements of a classical piece, with a slower more subdued method of closely mic'd finger picking.
The album then picks back up and sends the listener over seas once again with the upbeat, jig-like "King Pizel." This becomes an epically moving adventure with the help of ETHEL, booming bass drum hits, and"for the first time on a Kaki King record"bagpipes that solidify the Scottish/Irish influence.
Another string vs. guitar battle ensues on the dramatically orchestrated track, "The Fire Eater," which may be the most musically and aesthetically dynamic and sophisticated piece on the record. The musicians play off each other with dissonance, textural opposition, and coordination as if the instruments are having a conversation or an argument with each other. Among the many throwbacks to her earlier career is album closer "Marche Slav," a reverbed-out, lap-steel-based composition that ends the record on a relaxed but still contemplative note, allowing the listener to digest and reflect upon the vast array of soundscapes offered by Glow.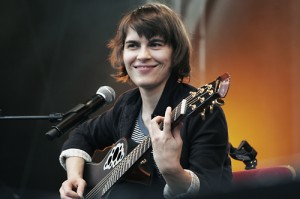 Prior to the release of this album, King said that "a lot of life happened between this record and the last one… There was a lot of serious doubt, a lot of fear, wondering if I wanted to do this anymore." But finally she has realigned with her true self, stating firmly that this is a guitar record… This is the sound of a person playing guitar. Whatever additions we made, the fundamental of this record is still one person playing a guitar. That's who I am." And sure enough, she has delivered as promised. Glow is a cozy and thoroughly enjoyable aural experience that demonstrates more than the guitarist's musical proficiency, but also her ability to capture complex emotions and thoughts through careful songwriting. At some points I feel like I want to go apple picking and carve some pumpkins, while at others I feel like taking a trip around the world. This goes to show that the album is just as soothing as it is exciting. Kaki still remains King.
Glow is Kaki King's sixth studio album and was released on October 9 through Velour Recordings.
If you like Kaki King, then you might also like OurStage's own Mikesch.
More like this: