Sound And Vision: Will Nicki Minaj Vs. Mariah Carey Hurt the Rapper While Helping "American Idol"?
I'm gonna knock you out…. I told you I'm not f**kin' putting up with her f**kin' highness over there!
It's not exactly prose worthy of Bob Dylan, or even Eminem, her sometime partner in rhyme, but with those fighting words, rapper Nicki Minaj recently helped make American Idol hot for the first time in years. She hurled them directly at Mariah Carey on October 2 in Charlotte, N.C., during the audition rounds for season 12 of Idol, which kicks off in January of 2013.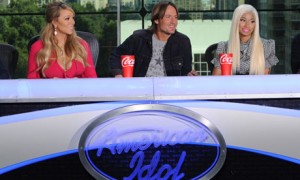 Since Minaj and country star Keith Urban were announced to be joining Carey alongside Idol vet Randy Jackson at the judges table next season, rumors of an escalating feud between diva No. 1 (Carey) and diva No. 2 (Minaj) have kept the show in the news and in the public consciousness during the off-season, when it should all be about The X Factor and The Voice. So much for the drawing power of Britney Spears!
It'll likely make Idol must-see TV again when round 12 begins, whether or not the bickering is, as some"including ex-Idol wannabe Jennifer Hudson and The Voice coach Cee Lo Green (reportedly)"have suggested, a staged publicity ploy to boost the show's sagging popularity. Even President Barack Obama has weighed in on the diva smackdown, planting himself on Team Mariah while attempting to play peacemaker. (Incidentally, the 2012 Democratic National Convention was held in Charlotte, scene of the Idol crime.)
"I think that they are going to be able to sort it out. I am confident," Obama told radio host Michael Yo during a recent appearance on The Yo Show. I'm all about bringing people together, working for the same cause. I think both outstanding artists are going to be able to make sure that they're moving forward and not going backwards."
Surely the Idol producers are hoping for the opposite outcome. Everybody loves a pair of feuding divas, and when the Idol action goes live, millions of viewers will likely tune in just in case there's another diva dustup. As long as the show keeps everything within FCC limitations (I'd suggest a five-seconds-or-more tape delay), Idol will most likely emerge the biggest victor.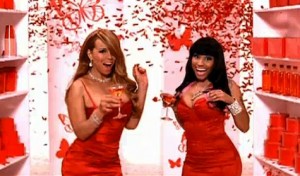 And will Minaj be the biggest loser? The general consensus thus far seems to be that the first round goes to Carey. She's got seniority"not to mention actual singing talent, which certainly makes her opinion as a judge of a singing competition more valid than Minaj's. Though it's unclear from the videos that have surfaced on YouTube what set off Minaj, at the end of the day (and any vicious argument), we're judged mostly by our reactions.
In blasting Carey so viciously and crudely, not only did Minaj come across as being ungrateful to the woman who gave her a big break several years ago, before Minaj was famous, when Carey invited her to rap on the remix of her single Up Out My Face, but she also cast herself in a most unflattering light, as a common ghetto thug, a cheap bully. Nobody likes those. Taunting her on Twitter afterwards didn't help her cause any more than the pink wig probably did.
Minaj already alienated some of her liberal constituency when she recently endorsed Mitt Romney during a guest rap on Lil Wayne's September mixtape, Dedication 4, but her anti-Carey fervor might end up derailing her career more than her distaste for Obama. Carey, who has beefed up her security (just in case), may have had her career ups and down, but let us not forget that for most of the '90s, she was America's pop sweetheart.
Mess with one of those at your own risk. Despite, her relative composure during Minaj's outburst, Carey can be a formidable opponent. She's tangled with Eminem, on record and off, and lived to talk"and sing"about it. Hell, she even scored a 2009 Top 10 single, Obsessed, out of it. Pop princesses, even ones a decade removed from their heyday, are made of durable stuff.
We've already seen the outcome of Kanye West's showdown with Taylor Swift at the MTV Video Music Awards in 2009. It was great for the VMA's visibility, heightened public sympathy for Swift (who, incidentally, is a card-carrying Minaj fan), and kicked off a public skewering of West, during which, President Obama called him an asshole.
Rappers are supposed to be somewhat contentious, but West's VMA outrage was more annoying than menacing. Even Swift eventually gave him a pass. If Minaj takes her anti-Carey fervor much further, the pop crowd might not be so forgiving. Minaj is working hard"and overtime"to win them over: Just a little over six months after the release of her second album, Pink Friday: Roman Reloaded, she's already scheduled an expanded edition, Pink Friday: Roman Reloaded"The Re-Up, for release on November 19. Now that she's on the cusp of completing her rap queen-to-pop princess makeover, Minaj might want to lay off her fellow judge and save her barbs for the Idol contestants.
It might not be what's best for Idol, but if Minaj values her day job over her night gig, the show's loss could be her gain.