Warped Tour Searching for 2013 Artwork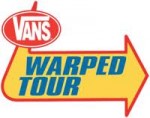 We can never get enough Warped Tour news, and even in the fall and winter months when we're pulling out the blankets and putting on the heat, Warped Tour is still hot on our minds.
That's why we couldn't resist sharing Warped Tour's latest news with you. The tour is currently searching for artwork based on the theme Best Day Ever and must include the 2013 Vans Warped Tour logo.
So whip out those old school colored pencils and pastels and get to work! If you're in need of some inspiration, check our more details and last year's winning design here.
If you like Warped Tour bands like All Time Low, check out OurStage artist Prom Night In Black And White.
More like this: