Metal Monday: Saille Return With Ritu

For longtime readers, repeated features on some of OurStage's best metal bands will come as no surprise–if an OurStage band keeps doing awesome things, I'll keep featuring them. Well, that time as come again as we're approaching the release of Saille's new album, Ritu, set to release in early 2013. For those new to Saille, they're a black metal band from Belgium who began their journey in 2008. As of now they have release one full-length album, Irreversible Decay and have played a number of shows in their home country.
Ritu appears to pick up stylistically right where Irreversible Decay left the band. Falling dead-on with the classic orchestral black metal of legends like Emperor's early material or along the lines of Satyricon/s catalog. Catastropic, noisy guitars, grand orchestral crescendos, prototypical rasping vocals and blast beats for days can all be found throughout Ritu in standard black metal style. Saille don't often appear to be looking to break the mold on Ritu, but the odd moments when they find themselves a bit out of the black metal character are also quite enjoyable"such as the bridge of "Haunter of the Dark" where there's a dreamy passage filled with piano that leads directly into another black metal march.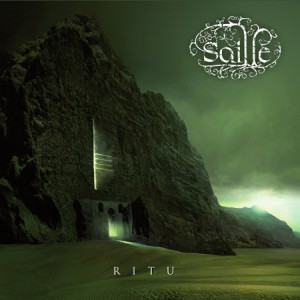 All of the instrumentation on Ritu is masterful and intricate, pulling no punches when it comes to technical prowess or displays of it. Even the litany of featured instruments, such as the flugelhí¶rn, cello, théremin, and trombone, also put on quite a display. All brought together by Shumcot Studio's recoding/mixing and Tom Kví¥lsvoll's hands at Strype Audio where they brought just enough polish to the chaos to suit black metal purists but leave nothing to be desired for folks who find themselves overwhelmed by the completely raw feel of many black metal albums.
It's a bit rare to hear new black metal bands seem to so effortlessly pull of the traditional orchestral black metal style with such grace and lack of ego. Nothing about Ritu feels pretentious in any way"it all comes across honest and earnest, surely something that any listener can appreciate. Between the interesting songwriting and full out intensity, Ritu is a gripping listen from start to finish and certainly places Saille in a position to be considered alongside the rest of today's black metal greats.
Check out their video for "Plaigh Allais" below, and go to the band's website to buy some stuff!