P!nk Announces Surprising Support For Upcoming Tour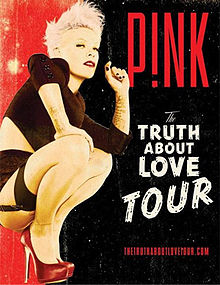 P!nk is known for having badass pop chicks (or chick-fronted bands) open for her, like VV Brown, Nikka Costa, and The Ting Tings. Today, she surprised us all by announcing that the bands supporting her on her upcoming The Truth About Love Tour would be acoustic/folk solo artist City and Colour and Swedish garage rockers The Hives. While we're still scratching our heads at the choices, we have to admit that P!nk has some pretty great taste in music.
Known for her stellar live vocals and acrobatic stage antics, P!nk is one of the most impressive performers out there. Make sure you check out The Truth About Love Tour when it comes to your hometown! Find your local tour date here.
Fan of P!nk? Check out OurStage artists The Design.
More like this:
Watch This! Wednesday: Jitta On The Track, P!nk, And Matt & Kim
P!nk And Eminem Keep The Party Going With Leaked Single, Here Comes The Weekend