Tegan And Sara Release Official Music Video For "Closer"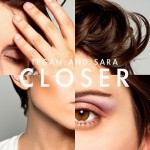 The indie pop twins are at it again. Canadian sisters Tegan and Sara have released the official music video for their single "Closer," off their upcoming album Heartthrob. The song is much more dancey and poppy than their previously released material, so if you didn't get a chance to listen when we posted it in September, be prepared to have it stuck in your head for the rest of the day. The video itself is just as fun and lighthearted as the song, with the two singers performing karaoke to a VHS recording of their own single, while various straight, gay, and lesbian couples make out at a crazy hipster dance party. Heartthrob is due out January 29th, 2013 in the U.S. and February 11, 2013 in Europe. In the meantime, check out the new "Closer" video below:
If you like Tegan and Sara, then you might also like OurStage artists Vic And Gab.
More like this:
Tegan And Sara Release I'm Not Your Hero
Album Review: Kaki King " Glow
Q&A With Tegan & Sara