Courtney Love (Ew) Says Nirvana Musical (Gross) Isn't Happening (Thank God)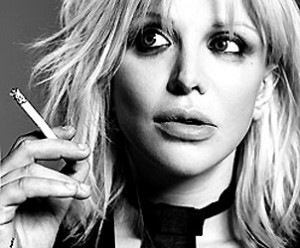 You know things are getting out of hand when Courtney Love has to step in to be the voice of reason.
Love, the wife of the late, great Kurt Cobain, stated in an interview with The Observer that rumors regarding musical about her relationship with her deceased husband were just that. "There will be no musical," said Love. "Sometimes it's just best to leave things alone."
Wait, since when was there going to be a Nirvana musical? Says who?! Sam Lufti, that's who.
Lufti, the sometimes co-manager of Love, is currently involved in a rather ugly lawsuit with one of his past clients Britney Spears. While testifying under oath Lufti made mention of a potential stage or screen adaptation of Cobain's life story and the music of Nirvana.
"[Courtney Love and I] are currently working on a possible motion picture or Broadway musical based on the Nirvana catalogue, based on her life and Kurt Cobain's," said Lufti. Now Lufti has made some pretty wild statements while on the stand (Britney did crystal meth! Her Dad punched Lufti in the gut!) but considering the fact that CBS is currently developing a sitcom called Smells Like Teen Spirit, a movie adaptation didn't seem so outlandish.
Wait, you didn't know about the CBS sitcom either? Yep, the multicamera project helmed by The Big Bang Theory writer Dave Goetsch will "[revolve] around an 18-year-old budding entrepreneur who forgoes Harvard and instead opts to launch a multibillion-dollar Internet company from his garage with the assistance of his sister, best friend and his 1990s indie-rock parents," according to The Hollywood Reporter. Every detail of this project just screams teen rebellion, doesn't it?
Watch the video for "Smells Like Teen Spirit" below because they might be able to sully your memories but they can't take them away.
If you like Courtney Love then check out OurStage artist The Worsties.
More like this: