Warped Tour Announces First Six Bands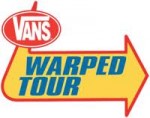 We know you can't wait for the summer to role around, and the Vans Warped Tour to make its way back into your hometown. To hold you over, the kind folks at Warped Tour have announced the first six bands that will be playing the festival, with promises to bring you 15 more new band announcements in the coming weeks. You can check out the recently announced bands after the jump.
Woe, Is Me
I See Stars
Go Radio
The Story So Far
Like Moths To Flames
Big Chocolate
If you like I See Stars and Warped Tour, check out OurStage band Ironsides.
More like this: