Warped Tour, Feed Our Children NOW! Ticket Giveaway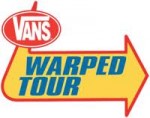 Warped Tour and Feed Our Children NOW!, an organization which helps coordinate food drives across the country, have teamed up to offer charitable Warped Tour attendees a shot at free tickets. All you have to do to enter is donate to Unite The United or Feed The Children NOW!, and get friends to do the same. You can check out all the details after the jump.
"Did you know that you can shop online and can help a charity at the same time? 
Unite the United
and 
Feed Our Children NOW!
invite you to join, 
Socialvest
. We think this is such a good idea that we are giving you the chance to go to the 2013 Vans Warped Tour for FREE!
How do you enter? It's simple! Head over to HERE and sign up using your Facebook account! Then download the easy to use tool bar. It is free and super easy! Once you download the tool bar, it'll pop up whenever you shop online at your favorite online stores"Target, Best Buy, Amazon and many more. With every dollar you spend, a percentage of your purchase is automatically donated to Unite The United or Feed Our Children NOW!  For more info on the prizes for those who share this the most and when this offer ends read after the jump!
The top 3 people to get the most friends to join will win 1st, 2nd & 3rd place prizes. First place is a pair of tickets with VIP Passes to the Vans Warped Tour date closest to you. Second prize is a Warped Tour Prize pack (includes Warped Tour compilation CD and commemorative skate deck) and Third place wins a Feed Our Children NOW! Shirt. Your friends have to join in order for it to count towards the prize. When you're done send us an email telling us how many of your friends you invited along with the email you used to join social vest and we'll announce the winner on January 31st!"
More like this: