Acoustic Basement To Tour In February 2013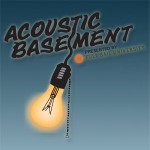 Earlier this year, singer-songwriter Brian Marquis, former guitarist and vocalist for Therefore I Am, came up with a plan for an acoustic stage at the 2012 Vans Warped Tour. With the approval of the tour's founder and manager Kevin Lyman, Marquis went on to produce, manage, and perform on the stage all summer. He called it the Acoustic Basement, and despite being thrown into a loud boisterous punk rock festival, the stage was a huge success, attracting more and more fans and artists every day.
Now, before returning to next year's Warped Tour, the Acoustic Basement will be taking flight on it's own tour in February 2013. Artists performing on the tour will include Brian Marquis, Koji, A Loss For Words, Geoff Rickly (Thursday), and Vinnie Caruana (I Am The Avalanche).
More info and dates soon to follow.
In the meantime,click here to learn more about the Acoustic Basement and what it takes to run a stage on the toughest tour in America.
More Like This:
Warped Tour Announces First Six Bands
Watch The Full Premiere Of Warped Roadies
Therefore I Am To Play End Of The World Reunion Show