12/12/12 Sandy Relief Concert: Performances By Springsteen, Kanye, Members Of Nirvana, And More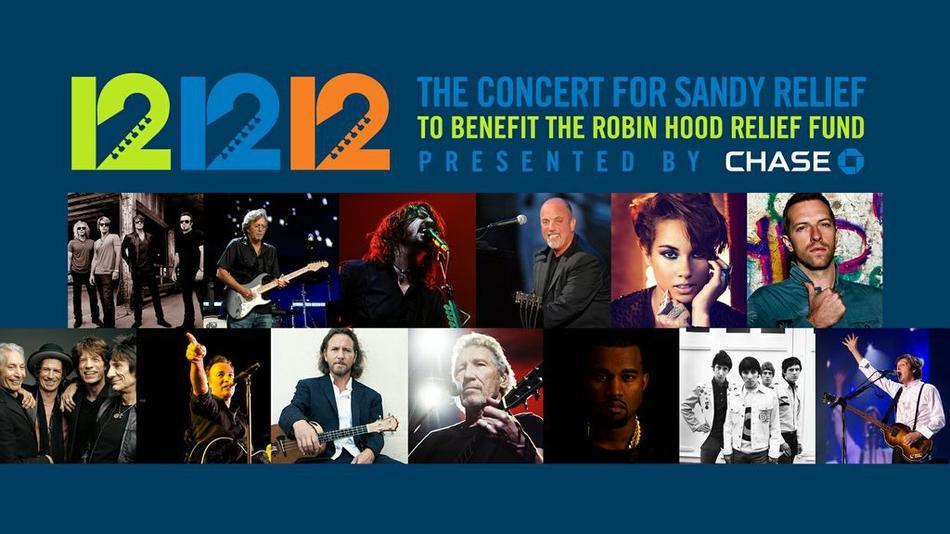 Last night, hundreds of celebrities came together, as they so frequently do, for a benefit event at Madison Square Garden in New York City. The purpose of the 12/12/12 concert was to raise money for the victims and survivors of Hurricane Sandy as well as provide hope and support for those still struggling. Performers included Bruce Springsteen and the E Street Band, Roger Waters, Adam Sandler with Paul Schaffer, Bon Jovi, Eric Clapton, The Rolling Stones, Alicia Keys, The Who, Kanye West, Billy Joel, Chris Martin of Coldplay, and probably the most talked-about performance of the night, Paul McCartney with the surviving members of Nirvana for their first reunion in twenty years.
According to Billboard, it was a powerful night of poignant entertainment, as many of the performers were from the New York/New Jersey area and chose songs that specifically related to the event. Springsteen did a Medley of "My City In Ruins," "Working On A Building," and Tom Waits' "Jersey Girl." His songs all hit home as did Adam Sandler's comical rendition of Leonard Cohen's "Hallelujah," entitled "Sandy Screw Ya." Click the links below to watch of some of these highlight acts.
Paul McCartney with Pat Smear and Nirvana members Dave Grohl and Krist Novaselic
Adam Sandler Performing "Sandy Screw Ya" (Rewrite of "Hallelujah")
More Like This:
Paul McCartney To Replace Kurt Cobain At Nirvana Reunion Tonight
Bayside Selling Benefit T-Shirt For Victims Of Hurricane Sandy
Redman Releases Hurricane Sandy Relief Freestyle