A Lot Like Birds End "Rock Yourself To Sleep" Tour With Pillow Fight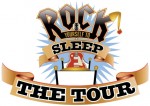 Last month we held a competition offering OurStage artists a chance to open for multiple dates of the "Rock Yourself To Sleep" tour with Dance Gavin Dance, A Lot Like Birds, I The Mighty, Hail The Sun, and The Orphan, The Poet. Judging from the following video, it looks like the tour was a blast. A Lot Like Birds seem to have taken the theme of the tour pretty seriously, ending their set on the last date with an all out mosh pit pillow fight on stage and in the crowd. Check out the comfy carnage below:
If you like A Lot Like Birds, then you might also like OurStage's own The Origin Animate.
More Like This:
Stream A Full Live Set From Dance Gavin Dance
Dance Gavin Dance's Bus Catches Fire