Featured Artist: Adrian Bourgeois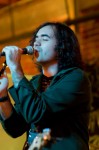 One of the greatest things about music is its ability to both enhance and directly impact your mood. With the right mixtape, you can go through a whirlwind of emotions in just a few short moments.  But what about when you're looking for that same fluency with only one artist? Well, Adrian Bourgeois has you covered.
From the mellowest of tracks, to ambitious tambourine-enhanced duets, Bourgeois' pallet is a wide array of offerings for even the trickiest of soundtracks. Between poignant mini-ballads to humble simplicities, you can be sure Bourgeois is a name to watch in 2013.
Check out Shot In The Dark below.