The Seven Best Musicians To Follow On Instagram
We are all connected. Our generation's need for information has bred a certain hyper awareness, an insatiable desire for instant information coupled with a distaste for gatekeepers. The mindset of today's youth is something along the lines of, "Get out of my way, geezer. I'm doing 80 in the fast lane of the information superhighway."
Do people still call it the information superhighway?
News of album announcements come by way of Google+ Hangouts. Twitter has replaced wire services as the means by which artists relay information to their fans and to the media. After all, who better to promote you than you? And Instagram functions in much the same way. The service has gone from hipster novelty to smart phone ubiquity. It has been adopted by celebrities, musicians, even Iran's Ayatollah Khamenei. But who should you be following on Instagram? Well fear not, dear reader! We know the best accounts to follow.
Rihanna might be the most "real" celebrity using Instagram, posting with little regard for potential consequences, #nofilter style. Her photos are frequently the fodder of celebrity gossip sites and tabloids. But that's only a small part of the kind of material that badgirlriri shares with all 2 million + followers. There are a ton the MySpace-esque self-taken face shots. But there's also plenty of motivational image postings along with really touching shots of Rihanna with her immediate family. The ones of her grandparents are especially cute.
Yeah we write about Diplo alot. Whatever. Anyone who is able to generate as much multi-faceted cool empherma around themselves has earned the attention they get. And Diplo's Instagram feed has the same feeling of tossed of swag that permeates every aspect of his being. It can be a little bit NSFW; there are some questionable shots of hot booty shakin' mamas and overt drug references (and use). But that, along with the celebrity cameos, pop culture curios, and relentless self-promotion is just part of the rockstar lifestyle, baby.
Musician, actor, wine maker. Only Maynard James Keenan, frontman of Tool, A Perfect Circle, and Puscifer, possesses this unique skill set. Though if you didn't know Keenan's background, you would be forgiven if you thought the guy was just an edgy grape farmer. Outside of the occasional band tee or these badass KISS-decorated eggs, there's hardly any references to music at all. Instead, we see Keenan the vinter with occasional flashes of foodie-ism. Did I mention the grapes?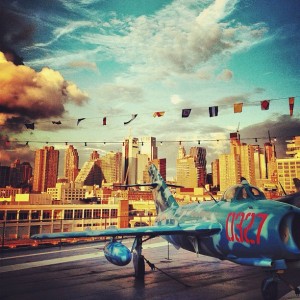 Ed Droste of Grizzly Bear
Ed Droste, the frontman for indie rock outfit Grizzy Bear, is cheating at Instagram. There's just no way that some of the shots that appear in his feed come from a smart phone. His Instagram is less tour diary and more travelogue, with shots of fields, friends, and other glimpses at Droste's life that reverberate with energy. Then there's a picture of him hanging out with what appears to be Steven Colbert in an ascot. Awesome.
Sometimes The National's music can come off a little dour. "Lemonworld," "Afraid Of Everyone," and "Vanderlyle Crybaby Geeks" are but a smattering of some of the downer-sounding tracks from the Brooklyn indie band's most recent effort, 2010's High Violet. But these guys aren't sad sacks if their Instagram profile is any indication. Their timeline is replete with the typical in-studio and live performance shots. Those are all well and good. What really sets the band's account apart is the absolutely beautiful landscape shots. Whoever is running their account has an excellent eye for the pastoral and the sublime. I MEAN JUST LOOK AT THIS FREAKING SUNSET AND TRY NOT TO FEEL FEELINGS.
"Swag" is an abstract concept that Souja Boy has thanklessly rendered physical through his Instagram. Fitting then that he refers to himself as "swagdaddy" in his handle. There's fine cars. There's snap backs galore. There's chains. It really looks more like old outtakes or behind-the-scenes footage of a hip-hop music video. As for a little bit of personal insight, it appears that Soulja Boy is a huge Apple fanatic. If the pictures are any indication, the man owns multiple MacBooks in addition to his iPhone and iPad. #swag
Everything glows with a distinct neon day-glo hue in freak rapper RiFF RAFF's Instagram. The pictures that Jody Highroller shares in his feed only give a sense of the absurdity of his day to day.  He gallivants around with Andy Milonakis looking for baked goods. He has blinged-out Icee cups and the Cheshire Cat (of Alice in Wonderland fame) on his chain. HE'S SEEN KE$HA WITHOUT ANY CRAZY MAKEUP ON. RiFF RAFF "balls on a very eccentric level" and his pictures reflect that in spades.
Know of any other musicians that we should be following here? Let us know in the comments!
More like this: