Grammy Performances Announced: Taylor Swift, fun. And More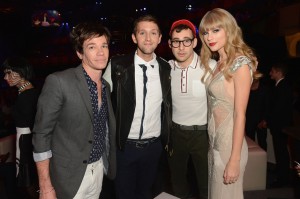 It's officially awards season. Sure, it can be an obnoxiously gratuitous, self-congratulatory time, but there's always a little entertaining drama to keep things interesting. Then, of course, there are the performances to look forward to. And now, music enthusiasts, the first batch of performers for the Grammy Awards have made the rounds.
Among this year's Grammy performers will be first timers The Black Keys and fun., along with Taylor Swift, Mumford & Sons, and Rihanna. All these performers are nominated in various categories, including fun., Mumford & Sons and the Black Keys competing for Album of the Year.
View the full list of nominees right here and don't forget to tune in as LL Cool J returns to host the 55th Annual Grammy Awards live at 8p.m. EST Sunday, February 10th on CBS.
If you like Mumford & Sons check out OurStage artist Kory Murphy.
More like this: